It is an extremely busy but exciting time for the RCH's Refugee Mission of the Reformed Mission Centre as it works to organize a newly acquired building in the heart of Budapest. The building will serve as the Mission's new community centre.
The new community centre, located on the famous Vaci Street, will serve as a place for refugees to meet for language lessons, tutoring, or simply a relaxed space to hangout and watch movies together. The main offices for the Refugee Mission's social workers that work with refugees to help them navigate the Hungarian bureaucratic channels will be located in the middle of the centre, providing a central location to meet. Currently, much of the Refugee Mission's work is done "in the field." Social workers have to travel to the refugees' homes and teachers must travel to different schools to tutor.
Previously, celebrations and special events were always held in different locations as well, mainly in local Reformed congregations. Now, the centre will provide the Refugee Mission with the ability and freedom to hold its own special events. In addition, the building will house an afterschool development programme, a library with refugee and migration related material mostly used by university students working on theses focused on the topics, and also a library specifically for refugees, which will be filled with Hungarian textbooks and reading materials in different languages.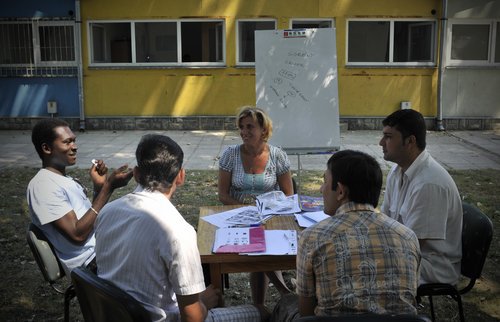 Most importantly the building will provide a place for fellowship among refugees, volunteers and staff. The new kitchen will serve as an area to host dinners with different types of food from many different cultures. "This allows us to welcome them, serve them coffee and tea, instead of them just welcoming us into their homes," said Dóra Kanizsai-Nagy, director of the Refugee Mission.
Currently the rooms and hallways of the community centre are in the midst of relocating, filled with boxes and assorted furniture, but the excitement among the Refugee Mission staff is visible. And while the centre is in transition, the centre is also being used! Language and tutoring classes are already taking place in a few of the future education rooms.
The community centre is set to be completely up and running by mid June, just in time to celebrate the United Nations' World Refugee day on 20 June.
Amy Lester
Photo copyright: UNHCR/B. Szandelszky/2010