The leaders of the Church can perform exceptionally well if the organization behind them works seamlessly – professes István Mózes Mező, the head of the Office of the General Synod. He sees the office, established in the current synodical term as a separate organizational branch, as a tool which, with the effective use of resources, can affect not just the Church, but the whole society. In his career, everything has fallen into place with his service in the Reformed Church, the arc of his work life has found its ultimate meaning in his appointment as the head of the office.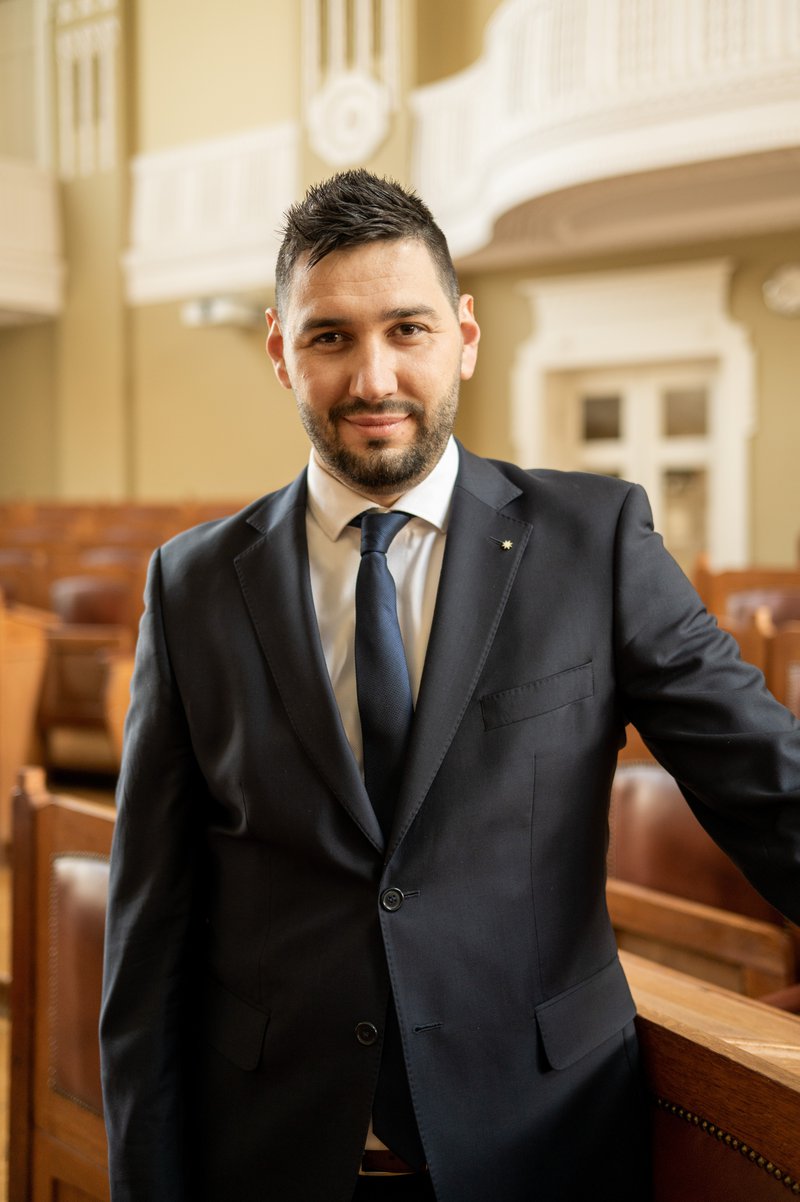 You grew up as the son of two pastors. How was your perspective formulated by your family background?
If there are any children about whom the majority of people unconsciously make generalizations, it must be the children of pastors. We feel that expectations towards the families of parish ministers are sometimes unreasonably high. My siblings and I were socialized in this special way of life, where there is a stronger than the usual pressure to comply to the expectations of religious parents, the community, and spiritually, to God. The pastors's child is well-behaved in school, is present at all the community gatherings, does not swear, is polite, is good at sports, sings, plays the organ – at the same time, we also wanted to be everyday children, like the others. I am the first son, there was even more responsibility and pressure on me, but I am grateful for it, because my first years taught me a lot about life. As I have five younger siblings, I learned early on how to take care of the younger ones.
Did you pick the legal career in consideration of the expectations?
If it had been up to me, I would be a professional football player now. But joking aside, I was a smart child, I had good grades. I always tried to accomplish what my parents wanted. I was interested in history, so I applied to study history and communication at the Károli Gáspár University of the Reformed Church, meanwhile I became interested in law and finished law school, then I started working at a law office. I have tried various fields as a lawyer. I constantly set new challenges for myself, and sometimes I even aim too high.
You held important positions at a young age, and also became involved in public life.
Beside law, I also worked on Hungarian and EU grant projects, I became familiar with all kinds of tenders, then I got experience in the private sector. I worked as the head of acquisition and logistics, and saw how a well-organized, profitable company works. After this, I was asked to lead the Department of Ecclesiastical Legal Coordination in the Ministry of Human Capacities, then I became the head of the secretariat at the Office of the Secretary of State for Churches, Minorities and Civil Affairs of the Cabinet Office of the Prime Minister. Here I was really working in public life. In my life, everything has fallen into place, this arc has found its ultimate meaning in my current work. The systems that I got to know and operated, the government office administration, the tenders, the accounting, the grants, all contributed to my better understanding of different viewpoints.
Success includes the possibility of failure. How can you deal with problematic situations?
Nobody likes talking about failures, but all of us make bad decisions. As believers, we have the potential to approach both success and failure in a different way. Experiencing failure makes us conscious of the fact that we are in God's hands. When everything goes well, it is easy to believe that we deserve this, of course later we realize that certain parts of our life were made successful by God. I am truly grateful for my wife, my family, because we help each other maintain our grip on reality, and see ourselves realistically.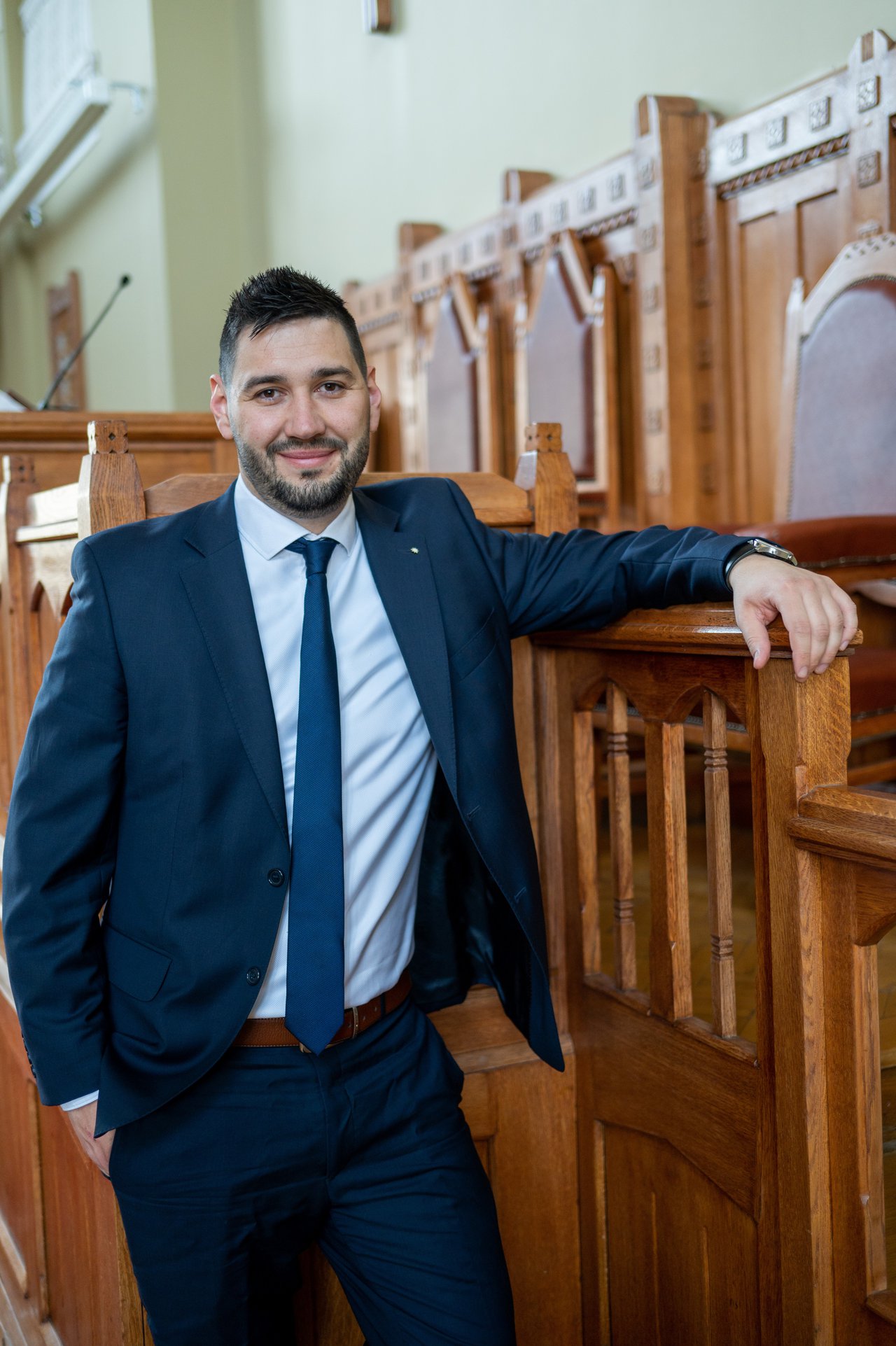 Why did you say yes to the offer of the Reformed Church in Hungary?
I am grateful to God that after my first job, all my following positions were offered to me, and this is how it happened in case of the Church as well. I talked to several pastor friends of mine before I accepted the offer, and I have to admit that there were some who tried to persuade me not to switch workplaces. I wanted to make the right decision, so I prayed for months, as a consequence of which I became convinced that I should accept this job opportunity. It was not easy to say yes, because I felt good at my previous workplace, I liked and enjoyed my work, and my bosses were satisfied with my performance. Still, I have not regretted it, and I know that I never will, because God led me to this inner decision.
How can your work contribute to the effective operation of our Church, the religious life of our parishioners?
More than a hundred people work at the Office of the General Synod at departments of strategic importance, such as the financial, legal, communications, or foreign affairs, but missionary, educational, tenders, and investment services also belong to the Office. My work is mostly operational in nature. While I got to know these fields earlier in my career, now there is an enormous responsibility on my shoulders, every day is something new, which has to be surveyed, studied – that is, stood up to. My aim with my colleagues is to create a system at the office that maintains its religious nature, its human face, still, is compatible with the challenges of the 21st century. I would also like to bring the colleagues at the Office of the General Synod closer to the life of the congregations, presbyteries, districts. I am working so that the members of our church can rely on our office as an organization that helps their life. It is difficult to make the results of administrational work visible, as from the outside, it is not easy to understand how important the smooth operation of this system is for the whole church. Many see the existence of these offices as a nuisance, but they are essential. If we take the Financial Department as an example, it is obvious that seamless operation requires professional financial accounting. We also have to ensure the competitiveness of communications, so that the church can appear in an appropriate way on the various information platforms, including social media. If the campaigns are successful – such as the 1% tax (in Hungary, taxpayers can offer 1% of their income tax to a religious organization of their choice), or the census campaign, if the Csillagpont (Star Point) Reformed youth meeting is of high quality, this shows the effectiveness of our organization. It is key to spend enough money on our programs. Starting to organize them is only worth it if we can do it at a high level. Effective work sometimes begins with really small changes. For example, we changed the time of the weekly devotions from Thursday to Monday, this way we can start the workweek with prayer, in the presence of God.
What operative tasks do you have?
I require reports from the heads of the departments about the tasks that they accomplished the previous week, as this is how I find out about obstacles, and the decisions that have to be made. A good leader accurately determines and assigns the tasks, does not do everything on his own, trusts his colleagues, and they share the burdens. I am happy if my colleagues feel that they can rely on me, I provide them support, I answer their questions, and I make the important decisions on time. I am also required to report to my superiors, and if there is a hinderance in the course of affairs, of course I explain it, and give detailed information. Another milestone in our office work is the introduction of regulations, that give the processes a framework. We do not just write these down, but I also make sure that we follow them, as they support our work, set up the field, and provide security. This year I would like to talk to each one of my co-workers personally, to get to know them as a colleague, a human being. We examine what everybody's tasks are, and what I expect from them. With well-organized background work, we can help the work of the leaders of our Church and the Synod, as in the long run, their decisions affect the life of our Church, what is more, the whole society. I would like the leadership to feel that we provide them with a reliable foundation, everything works well in the Office of the Synod, and there is a legal and transparent argumentation behind the decisions. The Office of the Synod was established as a legal entity of ecclesiastical law at the synod of last November, so the practical work could begin in January. We have a lot of tasks in front of us.
Bio
---
ISTVÁN MÓZES MEZŐ
He is the first of six children from a family of pastors. He has four brothers and a sister. He graduated as a history-communication major at the Károli Gáspár University of the Reformed Church in 2011, then received a law degree from the same institution in 2015. He led Department of Ecclesiastical Legal Coordination in the Ministry of Human Capacities until 2018, then he was the head of the secretariat at the Office of the Secretary of State for Churches, Minorities and Civil Affairs of the Cabinet Office of the Prime Minister. Since November 1, 2021, he is the the head of the Office of the General Synod. He is married, father to a boy, Merse Márton.
---
What goals do you wish to accomplish in the long run?
I want to realize a predictable, well-built strategy that does not only plan ahead for one fiscal year, where the departments can communicate with each other without obstacles. To the outside, we present a united front, we do not exist as isolated elements along each other, we march together hand in hand. I want to adopt an approach where it becomes natural that our decisions have long-term consequences. If we make the wrong decision, then in the next situation, we should move forward learning from what happened before, we should not repeat our mistakes. One of the most difficult areas is always finance, preparing the budget, which needs to be supported professionally. At these departments, everyone has to find the fields where they can do their best, meanwhile, this needs to be in balance with professional expertise. It is essential that in key positions, we should have faithful reformed protestants, who are also good professionals. For example, I find internal education, training to be important, and all other steps that improve organizational culture. We need to work to maintain a fresh approach, as after a while, it becomes difficult to preserve the objectivity in an organization, as every workplace has its internal culture, and those who live within it, get used to it. But we must never forget that we are a Church, consequently, in the life of our older and newer employees, their relationship with and integration into their congregation plays an exceptional role, and this is an important consideration during selection.
Has your leadership style changed since you have been working for the Church?
My worldview, which also defines me as a leader, has not changed when compared to my previous workplaces. I think this also can be explained with my family background. I have five siblings, four brothers and a sister. All of them did a lot to achieve their goals in life. There is a doctor, lawyer, midwife, economist, entrepreneur among us. When we grew up, neither the holidays, nor the weekdays were average or boring. Even our immediate family is eight people, which is not a small number, but we always had a guest either from the congregation, or from abroad, sometimes a person in need, who escaped to us from a difficult life situation. We also had Cabinet Ministers, mayors, Members of Parliament, and rich entrepreneurs as guest. Already as children, we learned to find common grounds with everyone, adapt to other people. We are an interactive, large family, we learned to mediate between different opinions, deal with conflicts, tensions. My environment as a child helped me shape my behavior as a leader, I learned to cooperate with people.
How can you reconcile life in a large family with all the work?
We celebrate every birthday together, all five of my siblings have a partner, my parents have four grandchildren, so we became a beautiful, large, loud family. We always taunt each other, we are the same as when we were children: we go home and become children again. It does not matter that my brother, who is a doctor, has just performed a serious operation, when we meet in my parents' house, he is my little brother again, and I tease him, the way I used to. We are a close-knit family, we close ranks. Beside my family, my faith is my biggest support during my everyday life. The foundation that determines my life is the decision that I made as a child to stand by Jesus. In my young age I used to rebel, but later I reinforced my faith in God that I still hold on to. I would like to improve as a follower of Christ, and be grateful to Him every day for what I got: my family, my personal way of life.
Originally published in the Reformátusok Lapja, the weekly magazine of RCH. Translated by Gergely Máté Balogh