The Refugee Ministry is a division of the Hungarian Reformed Church Aid (HRCA), assisting refugees with integration through various programs and services. Two primary programs are the Integration Base program and the Complex Ukraine Response program; the former serves a broader community of refugee clients, while the latter was organized in response to the outbreak of the war in Ukraine as a holistic approach to the complex needs of those Persons of Concern (PoCs) fleeing into Hungary. Both the Base and Ukraine Response programs include assistance with housing, employment, cultural orientation, education, and legal protection. In addition to these programs, the Refugee Ministry supports community engagement programs promoting social cohesion among clients and their new community. The Refugee Ministry hosts community events such as a recent youth summer day camp, a weekly senior club, art therapy sessions, the handicrafts club, and many others engaging youth and adults from the Base and Ukraine Response programs. Different divisions of the Refugee Ministry summarized their recent activities and accomplishments in these brief snapshots.
Complex Ukraine Response Program and Food Distribution
In their snapshot, the Ukraine Response program compiled various data on its assistance efforts between April 2022 and May 2023. The Ukraine Response program reports that 108,278 persons in transit benefitted from counseling and advice, 3,333 persons benefited from multipurpose cash assistance, 1,240 persons benefited from complex integration services, and 2,000 individuals received multi-purpose vouchers for clothes and food.
The Complex Ukraine Response program includes assessing the needs of PoCs and developing a comprehensive integration plan specific to the client's needs. Within this, the Refugee Ministry considers and provides services, including housing support, education, employment orientation, case management, counseling, etc. The Ukraine Response program reported that 955 individuals received housing support, 680 received employment inclusion services, 190 participated in employment training, and 802 received psychosocial support.
In addition to these services, the Refugee Ministry maintains a weekly food distribution program in partnership with the UNHCR. Every Thursday, at the Marek Street donation point in Budapest, food packages are distributed upon presentation of an asylum document or an entry stamp dated after February 24th, 2022. In June, a total of 1380 food packages were distributed to people in need.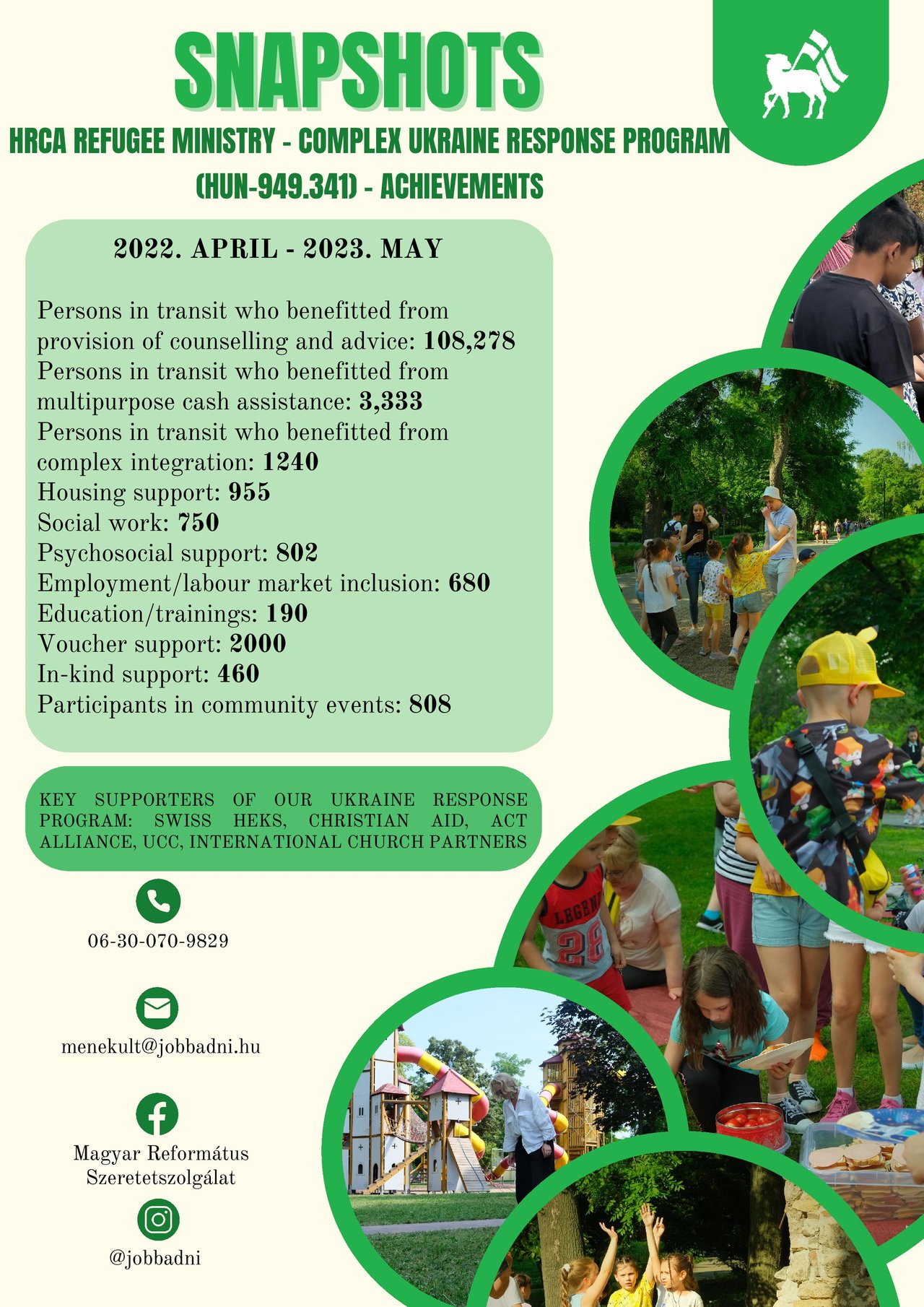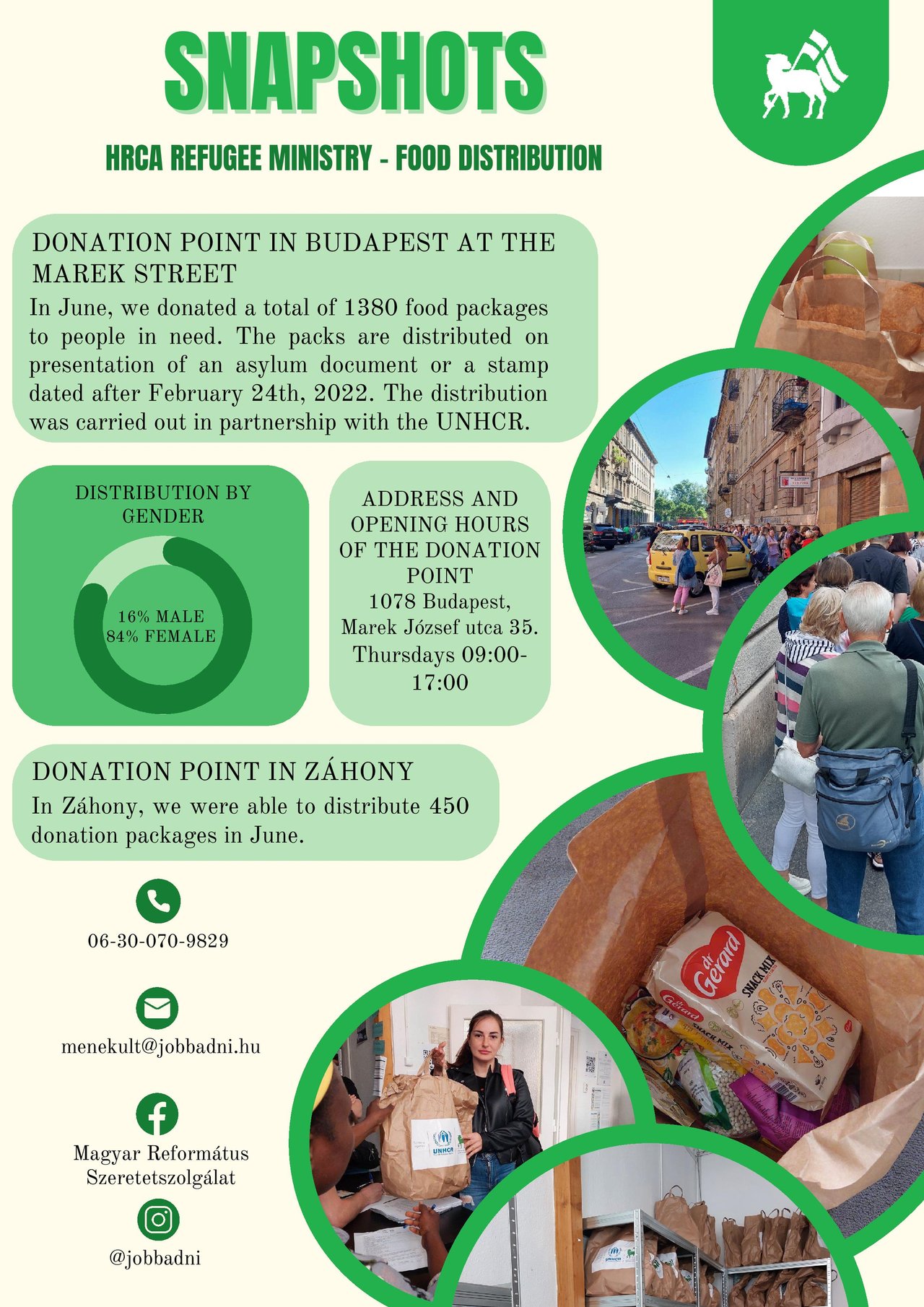 Integration Base Program and Trip to Dobogókő
The Integration Base program similarly provides clients with housing support, case management, education, employment orientation, etc. The Base program's snapshot reported numbers from various services and programs servicing its 136 clients between January 2023 and June 2023. The snapshot says that 65 clients received social work and case management assistance, with 30 clients receiving housing support and 39 clients receiving multi-purpose vouchers. 43 individuals participated in job search and employment support and counseling, and 47 individuals received education and training support.
Another critical aspect of the Refugee Ministry's programs is community events, of which the Base program conducted 14 between January and June, including a hiking trip to Dobogókő. Clients from a Hungarian language class went hiking to the Pilis hills, north of Budapest, to hike to the Dömös Lookout Tower. Language classes and community outings such as this hiking trip are immensely supportive in helping refugees integrate into their new community and build meaningful connections.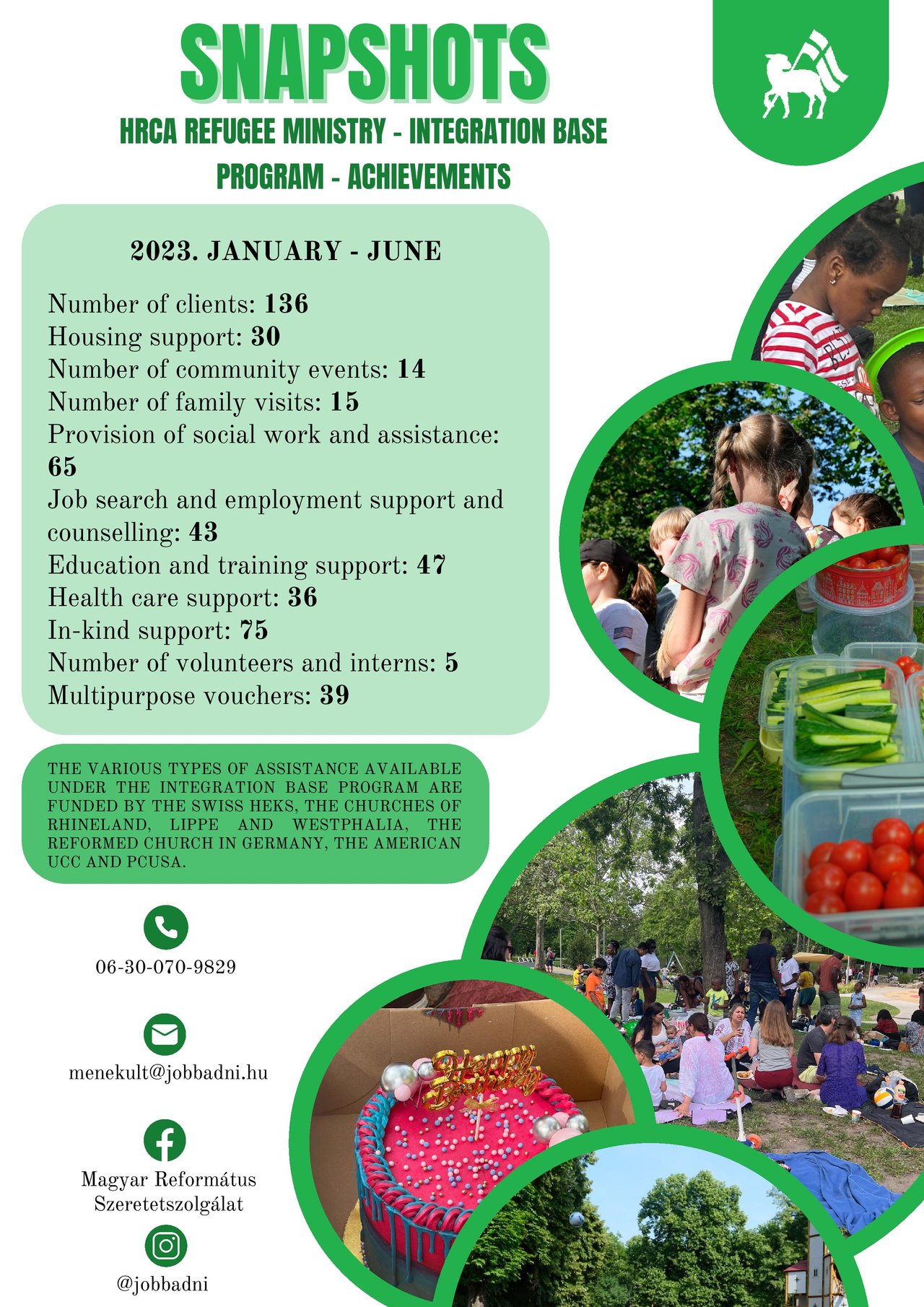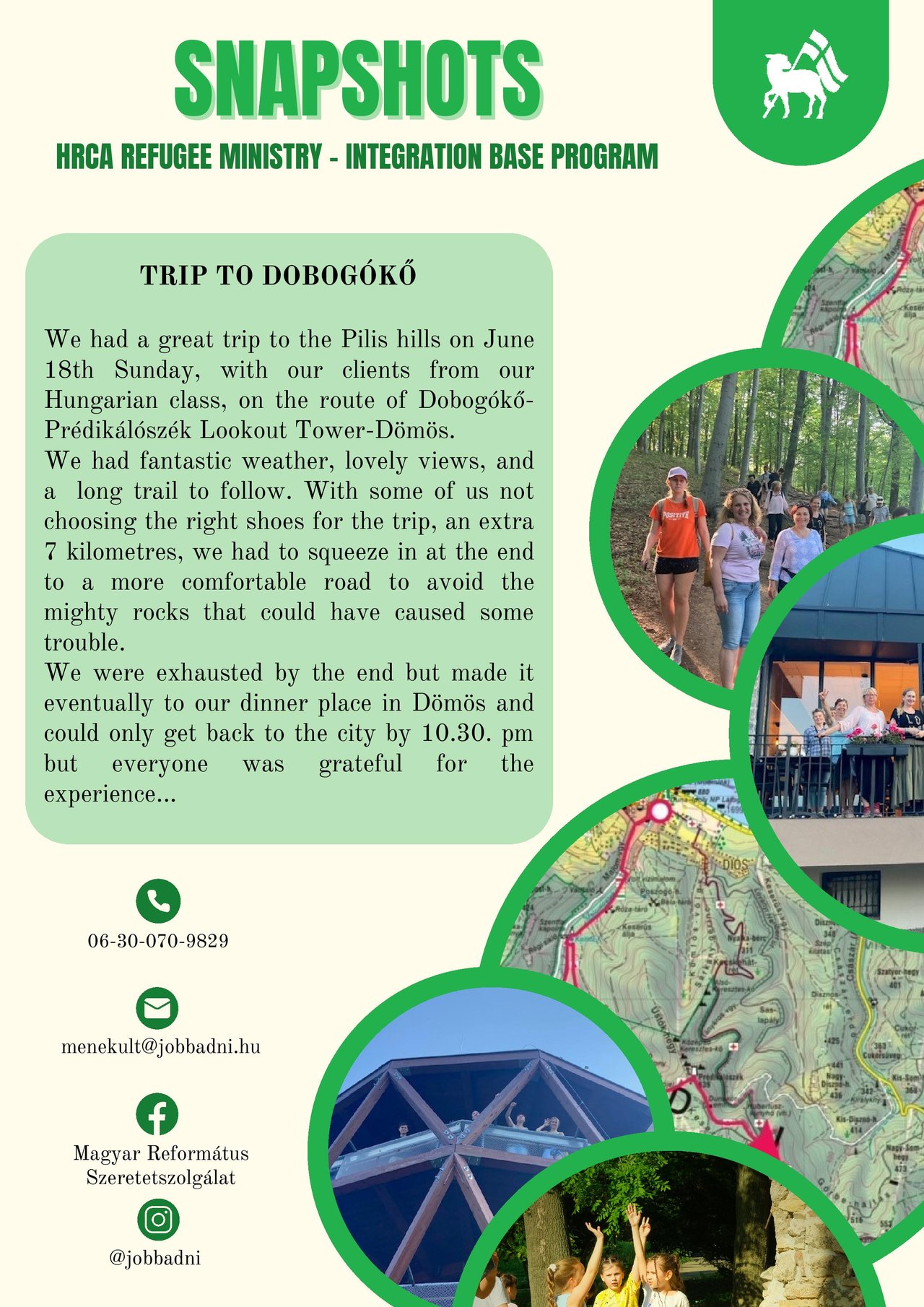 More Community Events, Trainings and Sessions
Snapshots on more events, and some trainings and sessions, give greater insight into the more social-orientated community-building programs the Refugee Ministry supports. For two weeks in June, children could participate in a summer day camp with various excursions to Margaret Island, Orczy Park, and Normafa. They visited a Wildlife Park, saw a Lego Presentation, participated in team games, a ropes course, and enjoyed ice cream and snacks. Also, around 80 clients and colleagues gathered in the city park in June to celebrate a coming together of cultures with a wonderful showcase of Nigerian cuisine. Community programs like these are perfect opportunities for individuals to gather and participate in cultural and generational exchange.
In June, clients at the Refugee Ministry organized a community picnic at the city park. Angela Canadey, the Swiss Church Aid (HEKS) Coordinator and Project Assistant for the Refugee Ministry's Base Integration Program, briefly summarized the lively event.
In addition to community events, the Refugee Ministry supports ongoing trainings or sessions wherein clients gather for various subjects. For example, there is a weekly art therapy session for adults in the community center wherein individuals are encouraged to express their thoughts and feelings creatively. For children, there is a handicrafts club where children participate in various seasonal craft activities. For older adults, there is a weekly senior club offering multiple activities for our guests from week to week. These activities include music, singing, gymnastics, and handicrafts. For example, one project included making dolls representing families, which will be sent to the men fighting on the Ukrainian front.
Click here to download the Snapshots as a pdf document
Letöltés