It was humility that God has thought him lately. He fled from Transcarpathia, Ukraine, but now he receives himself refugees in his home in Hungary. After crossing the border, he immediately started to volunteer; interpreting, transporting, and trying to be God's instrument. Zoltán Szabó, an elder from the Ukrainian village Sernye, who worked for the international organisation Gospel to Every Home in Transcarpathia, spoke to us about his experiences, God's guidance, love and fasting in times of war.
What did you do three or four weeks ago on a typical weekday when there was no war?
I live in Sernye in Transcarpathia with part of my family. When there is no war, I try to bring God to people's attention as a worker for the Gospel to Every Home, the local partner organisation of Every Home for Christ. I distribute Christian books, booklets, Bibles and help organise events.
We are now talking in a Reformed parish in Budapest. How did you get here?
There is a long history of how God led me out of Transcarpathia. On the morning of Friday 25 February, the day after the war broke out, we decided to leave after a whole night of struggling, discerning and praying.
Why was it difficult to make this decision?
I believe that God did not put us there in vain. We have a job there, not just mine: my wife is a teacher at the local Roma mission school. Our little daughter also goes to a local school. Leaving behind our vocation, our home, our garden and our small livestock is not an easy decision, but what is more important than anything we built with our hands; leaving behind souls is even harder. What happens to those who stay? That was our biggest question. Our little girl is 13 years old, a type 1 diabetic, and we wanted to keep her safe. We payed for God's guidance to make the right decision. We gratefully accepted the offer of our neighbour - also a reformed Church member in Sernye - to take care of the house and the animals. And we continue being in touch with those who stay. Since then, our home in Ukraine became a shelter: a pastor and his family who serve with the same missionary organisation, after having fled Kyiv, are living now in our house.
The physical journey must have been demanding. But how has your spiritual journey changed since you left?
We started the journey with a prayer. "Lord, we entrust our lives to you, if you think we need to cross the border, we will get over to Hungary. If not, if you put a barrier in our way, we will take it as a sign, we will accept it, go home and go ahead with our work."
We asked for God's guidance and we saw it. He showed us the way with concrete events. We experienced something similar to what happened to the Jewish people, for whom God divided the waters of the Red Sea. When we left on the 27th, many people had already fled, but there were no cars in front of us on the Ukrainian side of the border station we had chosen, and we could cross it in just a few minutes. Normally, in timed where there was no war, we sometimes had to wait three or four hours. What is this, if not a miracle?!
What happened after you crossed the border?
First we thanked God that we had crossed without any obstacles. Then I vowed to do whatever I could to continue serving the Lord. It may not be directly preaching the gospel, but helping someone else with what they need, but I will do whatever it takes.
How did you identify the way to implement your commitment?
The kingdom of God has co-workers here, in Hungary, with whom I have long been in contact. First of all, I called the pastor of the sister congregation of Sernye, the pastor of the Nagyvárad Square parish in Budapest. I asked for advice on how to go ahead. He connected me with the congregation in Mátészalka, a city near the Ukrainian border, which, among others, had taken on the task of helping refugees from Transcarpathia and the interior of Ukraine. Once I had placed my family in the safety in the home of our son living in Hungary, I set off for Mátészalka.
How did you get involved in the work?
The afternoon I arrived, a small group of us left for the border crossing at Tiszabecs. There is a reception centre in the school of the village, and we were immediately given a task. Some of us received the refugees, others looked after the luggage. I was mostly used as an interpreter. I tried to help the people in need with the registration of the reception centre. We checked if they had a place to go, offered food and clothing. The coordinators then entered them into the system and tried to help as needed. Later, I was directed to the border station itself, because there were no other interpreters there, not even all the border guards understood Russian or Ukrainian. There were also special cases, requests and sometimes misunderstandings. I was actively involved in resolving them. It was a cold night, but God gave me strength and joy to be useful.
Once here, in Hungary, did you experience God's guidance the same way as earlier?
Yes, although since then, together with the enthusiastic team of the congregation and the Hungarian Reformed Church Aid, we have also understood that people it is not only bread that people need, but also spiritual nourishment. This is how we contacted Peter Sztanó, head of the Every Home for Christ Foundation in Hungary. We learned from him that the staff of the Kyiv sister organisation are already on their way to the border with printed information materials that will help the Hungarian staff to produce leaflets and booklets containing prayers and Bible quotations. Thousands of these booklets were sent to the border to provide refugees with spiritual and mental support, beside food and clothing.
Reaching Every Home With the Gospel
"Taking the great commission literally, we partner with passionate Christians around the globe in sharing their faith right where they live. Using local indigenous workers to share the gospel face-to-face, wherever possible and gospel literature for both adults and children in their local language and dialect when it's not; we follow up every response. Together, we have reached over 1.7 BILLION homes in the last 70 years, and seen over 243 million people respond to the gospel," reads in the mission statement of the London based partner organisation.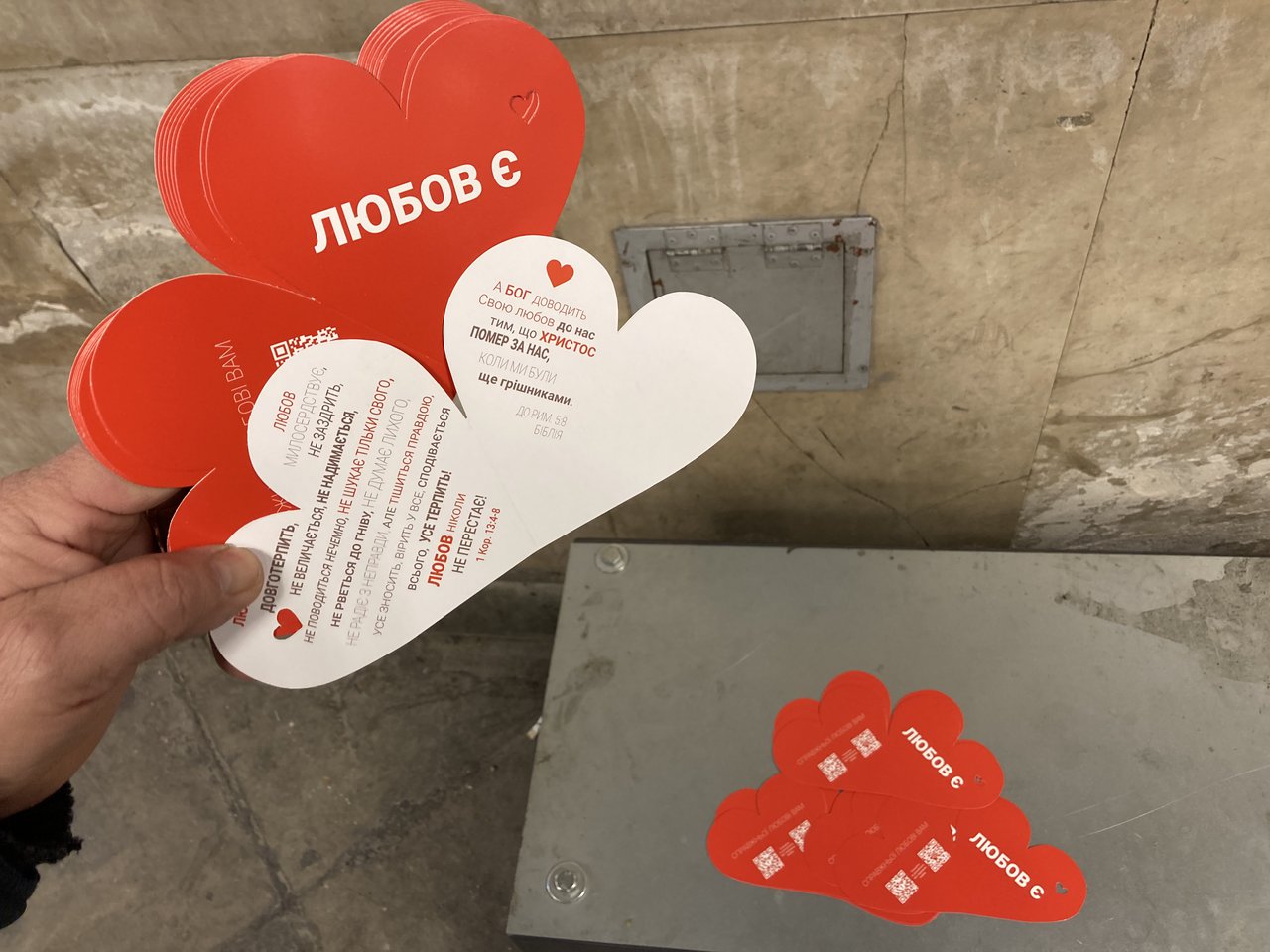 Zoltán also helped Daria and Bortnik Grigorjeva, among others, with interpretation. The staff members of the Kyiv based Gospel to Every Home/Every Home for Christ organisation also stayed in Matészalka for a while, and brought with them Christian literature and leaflets in Ukrainian as they fled their home country. The sisters left their home with their children, leaving their husbands behind. We asked them about the circumstances of their journey.
When and under what circumstances did they arrive in Hungary?
When we were thinking about leaving the city, we didn't know whether we could leave by train or by car. The latter is a very dangerous form of escape. There were families we knew whose car has been hit by bullets. We decided to leave by train. But it was not so easy, we could not reach either Uzhhorod or Lviv, because some bridge had been blown up. By car we got to another railway junction, from where we found trains leaving to the Western part of the country. Three trains passed us, but none of them stopped. We managed to get on the fourth one which was already crowded. Wooden seats were lined up in the wagon, sent to evacuate the population. There were no seats at all. My own young children, a five-year-old daughter and a seven-year-old son, were sitting on the laps of strangers. I was seated on my suitcase at the entrance where the doors open. My sister, who came with his two-year-old, could only sit on his suitcase, as well.
How long did the journey take?
A Latvian volunteer brought us from Lviv to Transcarpathia. This young man volunteers to help people getting out of danger zones. Our trip lasted several days. We have a close friend in Italy, we are counting on him and trying to reach him. Our Hungarian brothers and sisters are helping us. My husband went to fight as a volunteer because he had fought in the Balkan wars before. And my sister's husband is also a volunteer, trying to save lives and valuables. Around Kyiv, when a house catches fire or hit by a missile, they are the ones who go inside the building, evacuate whoever is in there and take them to the hospital or wherever they can.