The Hungarian Reformed Church Aid (HRCA) helps refugees in Hungary by paying regular visits to the transit zones in Röszke and Tompa and also the refugee camp in Nyírbátor. They not only help with supplying food, but they have also enlarged the library, organized sports events and provided spiritual support. Christian refugees are arriving in Hungary in increasing numbers – the opportunity to talk to fellow Christians, or even pastors, is a relief for them. We asked Márton Juhász, the managing director (CEO) of HRCA, to tell us more about their services for refugees.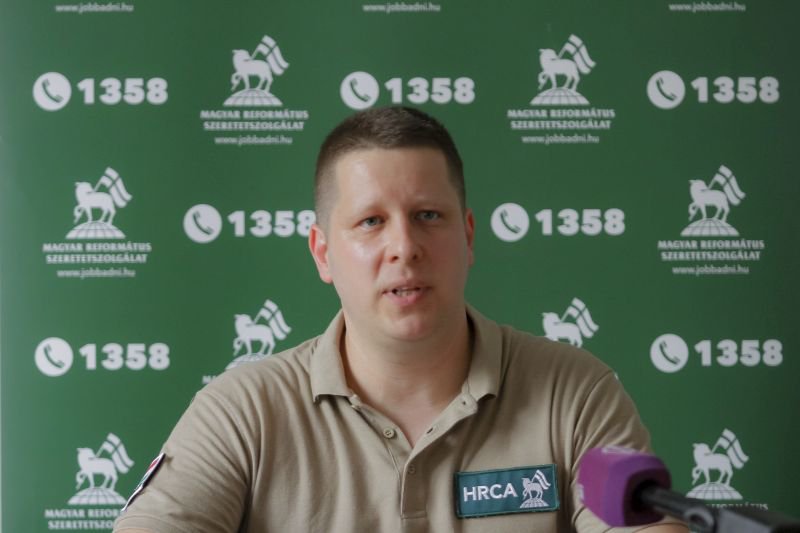 As a member of the Charitable Council, the HRCA received 100 million HUF (320,000 EUR) in two installments from the government so that they can help refugees arriving in Hungary. How did you use this money?
We visit the transit zone in Röszke and in Nyírbátor every Tuesday and the closed refugee reception center in Nyírbátor every Friday. We distribute durable food, toiletries and clothes, and we also try to help people to HRCA something meaningful while they are waiting. We organize workshops and sport events, HRCA crafts, and have filled the library with books in English, Urdu, Pashtu and Arabic.
We have enough resources to carry out infrastructural development as well: we bought a car that is suitable for transporting donations, we bought a field-kitchen and ten, small, pavilion-like tents – the later serves the purposes of holding workshops for children, religious activities, and the distribution of food. We also have money to organize trainings for our professional teams, like the technical emergency team, the crisis intervention team, or our doctors.
How does the HRCA promote religious life in the transit zones or in the reception center in Nyírbátor?
With the help of employees of the HRCA and volunteering pastors. We visit the transit zones with a minister once a week. Ministers provide psycho-social and religious service either in English or with the help of an interpreter. Several ministers living near the transit zones volunteer to regularly visit the camp, in order to provide spiritual support.
Do you give spiritual support to Christian refugees or to everyone – independent of their faith?
We are just as open as in our other activities. We help everyone in need; we provide food both in the physical and in the spiritual sense. It is no different in the transit zones. By the way, more and more Christians get in touch with us, saying that they would like to experience their faith in a more active manner.
Can you tell me an example, something that made you convinced that the diaconal and mission services of the Reformed Church had an important role to play when it came to refugees?
One of my colleagues told me a sad story about a Christian brother who had escaped from Syria. He told my colleague about the hardships of his journey to Hungary. He is in one of the transit zones now, waiting for a verdict. He, for one, was very happy to meet us, very happy to be able to receive help and support from his Christian brothers. He has serious financial difficulties and it meant him a lot that we were in a position to be able to provide him with all kinds of new clothes and other donations. But this is only one story – my colleagues come across hundreds of these. I feel that the humanitarian help we give is efficient and indispensable in the transit zones.
Country-wide Collection of School Supplies
Right now, the HRCA concentrates on the collection of school supplies, before the start of the new school year. We would like to help students in need in the Carpathian basin. donations can be delivered to the HRCA offices in Budapest, Debrecen, Ózd, and Vásárosnamény. There are several congregations, all over the country, doing a similar collection – it is a good idea to check in your neighborhood. According to Márton Juhász, managing director, even the smallest items, such as a box of colored pencils, can make a big difference for students living in bad conditions.
Interview by Márk Hegedűs
Translated by Ágnes Székely
Edited by Kearstin Bailey