In 2021, the third four-year support period of HEKS (Swiss Protestant Church Aid Organization) and the Hungarian Reformed Inter-Church Agreement began. In the framework of the cooperation the Swiss organization supports the mission among Roma and disadvantaged. On May 11, 2021, the Swiss staff of the National Reformed Roma Mission and HEKS, as well as the program implementors, got acquainted with the framework of cooperation in the following years during an online meeting.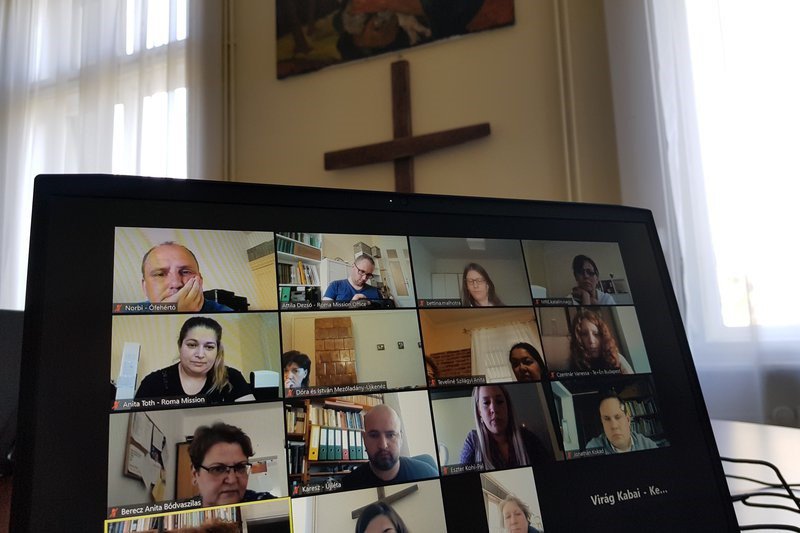 The meeting began with the thoughts of Eszter Dani, head of the mission office, based on chapter 11 of the book of Acts of Apostles. Here we read about how Peter recognizes that every human being is a precious creature of God, without distinction. "Who am I to hinder God?" - the apostle asks the question, which can be felt by those who serve in the Roma mission.
"Let's be open to what God is telling us!" - Eszter encouraged those present, including former program implementers, and several of them who joined the service this year
In her greeting, Anita Tóth, the rapporteur of the National Reformed Roma Mission, invited the pastors and staff to the national events of the mission, an then Bettina Malhotra, HEKS's rapporteur for Central European projects, expressed her gratitude that the collaboration, which now goes back more than eight years, continues to provide support for many children.
After the introduction of the participants and their services, Andrea Ignácz, the coordinator of the congregation program of HEKS, outlined the tasks of the four-year period facing the implementers. Andrea's presentation covered the budget of the project and reporting obligations, contractual obligations, and the steps of program administration. Regarding the financial statements, Katalin Nagy, an employee of the Economic Department of the RCH Synod Office, described the tasks of the implementers
It is gratifying that the pastors and their helpers look forward to the project with enthusiasm and motivation, within the framework of which they will be able to organize afterschool programs, playhouses, community programs and excursions for children living in their settlements, all over the country, from Baranya to Szabolcs, from Hajdú-Bihar to Budapest, from Borsod to Bács-Kiskun counties.
May their service be blessed!
Translated by Andrea Ignácz