Vujity Tvrtko, writer, journalist and reclaimed television reporter in Hungary worked with the Pulzus FM, a Hungarian speaking radio station in Transcarpathia, Western Ukraine as a volunteer. He called his week-long work a peace mission.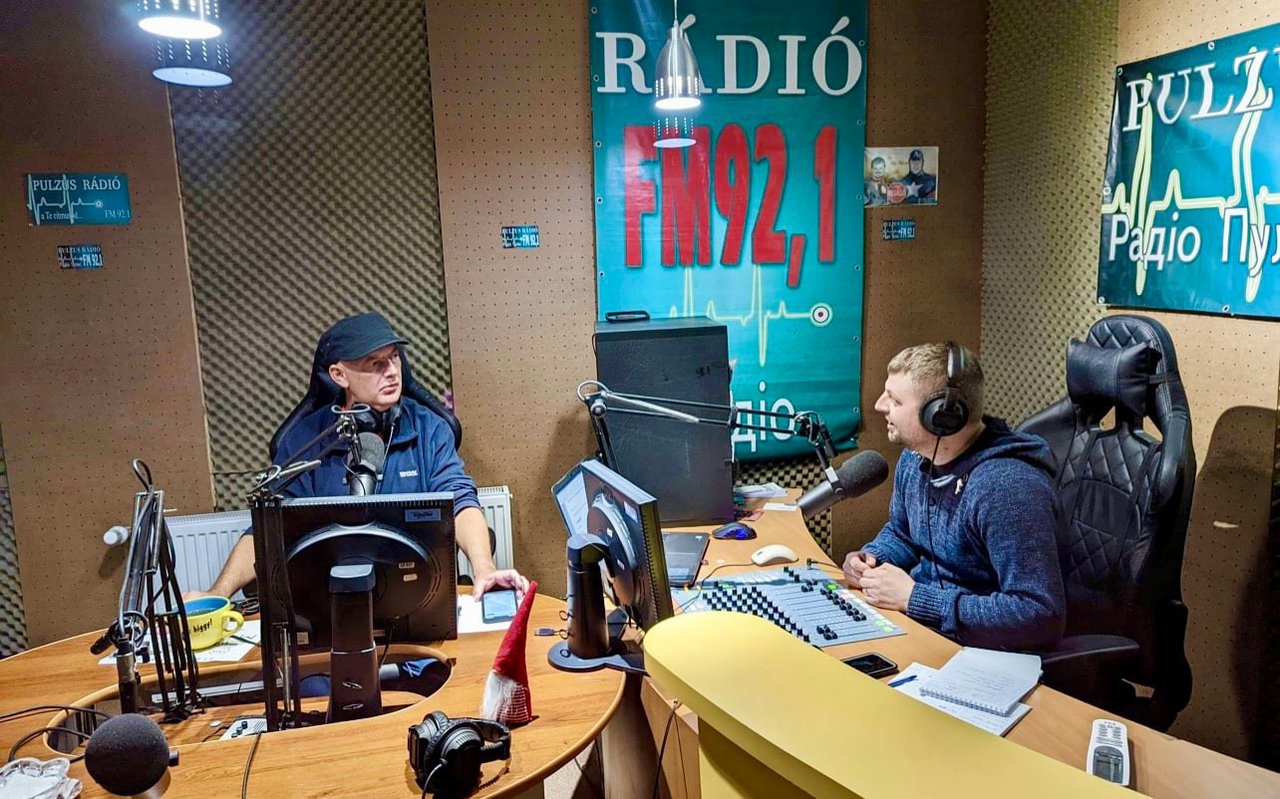 The Hungarian celebrity with Croatian origine mentioned his visit to Transcarpathia last december as a prelude to his current assignment, and was invited to the radio station. When the war broke out, he called editor-in-chief Zoltán Birta to see how he could help. It occurred to him that he could do a lot as a colleague, so he left his current home in Hawaii, and they recently co-hosted a show called Special Edition on Pulzus FM.
The reporter had already experienced what it means for a minority to receive credible, important, peaceful and balanced information in their mother tongue during the Balkan war, where he worked as an interpreter and reporter. He stressed that he came to help, but he received a lot himself. As he said, "I have never in my life received so much strength and faith as I have in the last few days, here from the locals, and especially from Zoltan."
In the past few days, they have had guests from all over the world: Hawaii, Canada, Florida, Budapest, or from the village next door. Within all of this, it is definitely valuable that they have also connected Reformed pastors from Trancarpathia.
When I asked how they are now getting authentic information in Transcarpathia, he replied that their main task is to cover news on the civil sector, on suffering of children and on refugees. Everyone in the area is working together, and the information doesn't come from the internet, but first hand experiences.
He also said that his experience in the Balkan war, in the editorial of Radio Esek and the current situation shows that Pulzus FM is now not just a local radio station, but much more than that. The kind, beautiful soul and the information in the mother tongue give you faith. It is touching that when they go to work they are hugged on the street and thanked for their service. Pulzus FM staff asked those who can, to continue to pray for them.
The presenter also mentioned that he was not alone in Transcarpathia, as one of his sons, Barnabas, who is just 18, was travelling there because he wanted to help. He added that it was a strange coincidence that he himself was 19 years old, four days after his graduation from high school, when he was caught up in the Yugoslav war, and that Barnabas graduated from high school in the United States four days prior his departure for Ukraine.