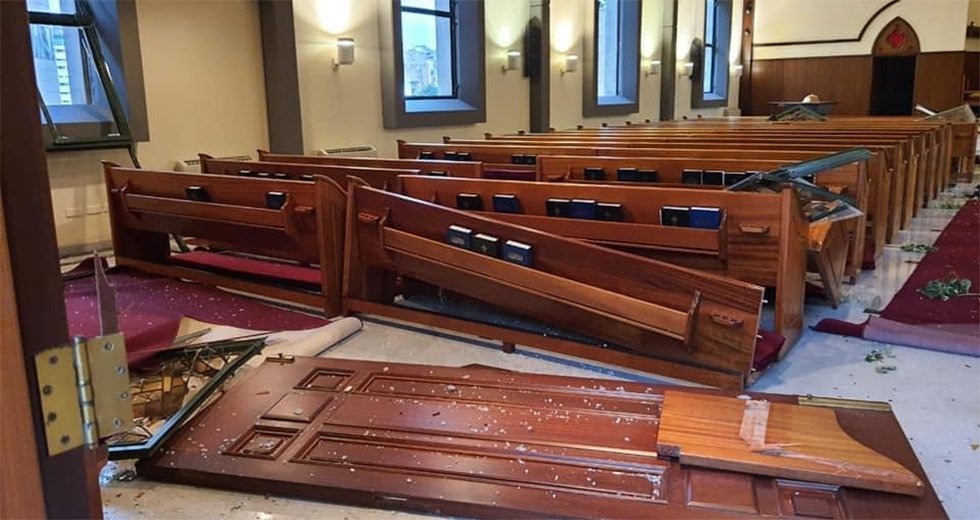 We are afflicted in every way, but not crushed; perplexed, but not driven to despair; persecuted, but not forsaken; struck down, but not destroyed; always carrying in the body the death of Jesus, so that the life of Jesus may also be made visible in our bodies. — 2 Corinthians 4:8-10
The World Communion of Reformed Churches (WCRC) calls on its member churches to pray for all those who have been impacted by the explosion in Beirut's port on 4 August and to provide support as they are able.
The blast, which Lebanon President Michel Aoun said was caused by 2,750 tonnes of ammonium nitrate, killed at least 100 people and injured more than 4,000, damaging much of Beirut.
The damage has included buildings of member churches, including the National Evangelical Church of Beirut, where the WCRC Executive Committee held its opening worship service in 2015. The church's windows were destroyed, doors were blown off their hinges, and several ceilings collapsed.
Habib Badr, senior pastor of the church, had just left his office when the ceiling there collapsed due to the explosion. "The damage and destruction is incredible … just incredible! Now pray for us. It's a very serious development," he said.
WCRC President Najla Kassab, who also works for the National Evangelical Synod of Syria and Lebanon, reported that church buildings and homes were damaged, with windows and doors blown out. "Many Lebanese were not able to sleep in their homes and some found their homes in rubble," she said.
The Near East School of Theology (NEST) also suffered extensive damage. "Never has NEST been hit so badly as yesterday, not even during the worst days of the 15-year war in Lebanon. Of course, we are not the only ones. The devastation in the rest of Beirut is vast," said George Sabra, president of NEST.
According to the BBC, "The explosion comes at a sensitive time for Lebanon. With COVID-19 infections on the rise, hospitals were already struggling to cope. Now, they are faced with treating thousands of injured people. The country is also going through an economic crisis. Lebanon imports most of its food and large quantities of grain stored in the port have been destroyed causing fears of widespread food insecurity to come."
"Living in the Middle East has taught us the art of continuing, of hoping and trusting that our Lord is with us on the journey," said Kassab. "Every day is a new day. Today we decide to remain hopeful and continue to stand up against hopelessness."
"We continue to hope for peace, for a better tomorrow, and for strength on the journey," she said. "Our main concern is to preserve the dignity of the people and be able to hear their cry and commit ourselves and resources to make a difference."
In a letter of condolence and solidarity, Bishop Dr. István Szabó, President of the Synod of RCH expressed his symphaty with the two sister churches of RCH in Lebanon, the National Evangelical Synod of Syria (NESSL) and Lebanon and the Union of Armenien Evangelical Churches in the Near East (UAECNE). In a letter to NESSL's General Secretary, Rev. Joseph Kassab, and the President of UAECNE, Rev. Megrditch Karagoezian, he recalled the Memorandum and referred to statement of Rev. Najla Kassab, minister of NESSL and president of WCRC:
In the wake of the devastating explosions that hit the city of Beirut yesterday, and in awareness of the high number of victims, affected families, the extensive damage caused by the blast, let me express the deepest sympathy and solidarity on behalf of the Reformed Church in Hungary and the whole Hungarian Reformed Community.
As fellow Christians and members of the Worldwide Reformed family, we share in your pain and in the distress the people of Lebanon and your church community had to experience in the last months. We are aware that this incident is yet another challenge in an already sensitive situation and deep political, economic and social crises.
We pray for the victims, for the grieving families, for the rescue teams serving on the frontline and for the Lebanese people in general. God may give you and your Church comfort, strength and hope which you desperately need to fulfill your ministry and continue your journey even under these circumstances.
Please know that you are not alone! We remain faithful to our joint commitment which we expressed in our joint Memorandum last year: "Our churches give thanks to God for this relationship and look forward to the future, in Christian solidarity, as we seek to walk together in the footsteps of Christ and continue to pray for each other. "Christ is our future, together we follow Him".
Please, be assured of our prayers and thoughts, just like of our fraternal solidarity and support, and never hesitate to share your concerns and needs with us at any time. We will do our best to ease the pain and to support your faithful ministry under these critical circumstances.
I personally wish you and your community strength and hope from above, so that you are able "to remain hopeful and continue to stand up against hopelessness", as Najla Kassab, President of WCRC, our worldwide reformed family stated.
As a sign of our continued commitment and solidarity, in the spirit of the memoranda RCH signed with both NESSL and UAECNE, RCH decided to offer an instant financial aid to both sister churches in a value of 10 000 EUR each, to support reconstruction and the large scale humanitarian intervention both churches offer to Lebanese society.
"Reading the signs of our times, we are especially concerned by the great human suffering and political difficulties that our people are facing in the Middle East. We have been greatly disturbed by the incidents of violence that innocent civilians and entire communities, especially Christians, have been subjected to. As "Ambassadors for Christ" in promoting peace and reconciliation, we strictly condemn and oppose any form of religious discrimination, oppression and persecution. In our cooperation, we therefore give special attention to helping Christian communities to remain and serve God in their homelands and be witnesses to the Good News of Christ, and thus invite and encourage others to join and support our common mission." - Quote from the Memorandum signed between RCH and NESSL and UAECNE respectively in 2019.
RCH delegation led by Presiding Bishop István Szabó is in Lebanon for conversations with church leaders of NESSL and UAECNE before visiting Syria. As a sign of the unique relationship with the Reformed Churches in the Middle East, the church leaders of the RCH signed a bilateral memorandum with church leaders of NESSL and with those of UAECNE on March 27 2019.