At the Conference of Reformed Intellectuals in Szárszó, Zoltán Balog, a Reformed Pastor and the Minister of Human Capacities, engaged in a dialogue about professional ethics and the future of Hungary. Balog says that the government welcomes every child, whether born as a result of natural or assisted conception and he gave an interview to Parókia web portal to discuss this more in-depth.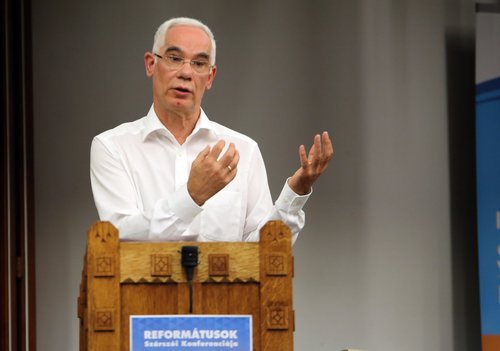 In your lecture you mentioned that 16th-century students travelled abroad to learn from Luther and Melanchthon, and upon returning with the knowledge they had accumulated, they built a Reformed Church. In today's world, who can we turn to, who can we learn from?
We can learn from one of the most precious items in our heritage: the Bible. On the other hand, there have always been mediators for the teachings of Christ, and there are people even today from whom we can learn how to understand and represent the Gospel in the 21st century. I believe it is important that Christian communities have their own intellectual and spiritual spaces where we can come together to share our thoughts and reach conclusions that can orient us in secular life as well.
Perhaps one of the most difficult issues is how we can make joint decisions that everyone can identify with, when we are so different.
This is a matter of attitude and lifestyle. Are we able to live our lives in a way that we do not place ourselves in the centre, which is the essence of the Christian truth? When one views others with the reassurance that one's own salvation has already been taken care of by the Lord, one is able to think and debate differently. We have seen a number of positive examples since the 16th century, how Protestants were able to reach joint resolutions after months of struggles. During the first synods it often took years to find the expressions, the wordings, which everyone could identify with. The doctrine of the Trinity, for example, is a great treasure for churches to this day.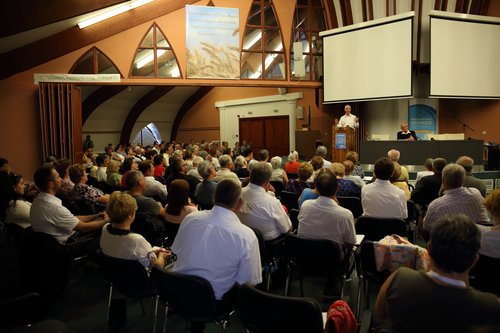 We live in an individualistic society, and yet you talk about not being in the centre, and you claim, as you put it at the Conference of Reformed Intellectuals in Szárszó, that "forgetting one's self" is one of the greatest Reformed virtues.
Those who are in the care of Jesus Christ do not focus on themselves but on the issues that matter and the people they are responsible for. Although we tend to talk about a Christian Europe, I harbor no illusions: we are swimming against the tide. Christianity is on the rise everywhere but Europe. We in Hungary have decided to go against the Zeitgeist; just to give one example, we have made Good Friday a public holiday in the sense that people do not have to work, but it is only the people, the community that can make it a real festivity. With this act, we wish to express that one must suffer in order to achieve results, happiness, salvation. This attitude could prove meaningful to those who are fed up with consumerism, which claims that nothing matters but happiness in the moment, regardless of the cost. Of course, this happiness is expected to come effortlessly, without any sacrifices. 
The mother tongue of Europe is Christianity – said Goethe in the 18th century. Do you think we can still speak this language?
Some can, others cannot. But those who do speak this language have a duty to teach it to others ever more efficiently. Language is of great significance anyway, just think of Gáspár Károli, who not only translated the Bible, but also reformed the Hungarian language. We Christians, too, have to reform our language time and again, rephrasing the message in a way that today's people understand it. 
The Szárszó Conference of 1943 stood out among the others in the series because the participants discussed national matters of life and death. In the year 2017, what is a real matter of life and death for the Hungarian nation?
First and foremost, I would mention the question of demography. For decades, we have been living in a country where deaths outnumber births. This is more than a mere sad statistic – it raises the question of whether this community wants to go on living, whether it says yes to life. We have seen a slight change for improvement in this regard: over the last 4 to 5 years there has been a significant increase in the willingness to have children, which means that a smaller number of mothers have given birth to a greater number of children than in the previous decade.  
Speaking of child-bearing, over the past few days there has been a lot of talk about the in vitro fertilization (IVF) programme. András Veres, Bishop of Győr and President of the Hungarian Catholic Bishops' Conference, has stated the Roman Catholic Church rejects all forms of artificial insemination. Where do you stand on this issue?
I find it very important that the view of churches should be a part of public discussion, even if not everyone agrees with them. There are issues where the government and myself hold different views than the churches. As far as the IVF programme goes, I can say that we, the government, gladly welcome every child, whether born as a result of natural or assisted conception. We must face the fact that the world has changed – statistics show that nearly twenty percent of young couples suffer from infertility. We must not exclude them from the opportunity to have their own children. It is my belief that the in vitro fertilization programme should be extended to provide an increasing number of couples with the opportunity to have children. However, we have a responsibility to ensure the protection of life, and there must be regulations on what happens to unused embryos because it is unacceptable that these should form the basis of any business activity. 
According to several doctors' statements, there are countless Christian couples who undergo artificial insemination when they cannot conceive naturally. Does this mean the church's teaching is outdated?
The teaching of the church is not outdated because it has an eternal element. It is important, on the other hand, how this teaching should be represented in the 21st century, and the answer is that it cannot happen the same way as it did centuries ago. There are currently debates within churches whether there is guidance in the Scripture regarding the evaluation of the IVF programme.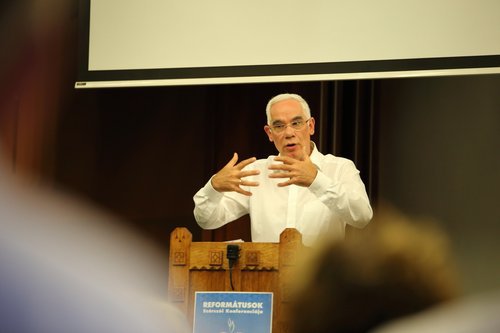 In your view, the ethical dilemma is not whether a baby is conceived in the womb our outside the womb. What would be a healthy attitude to the issue?
Helping and supporting the couples who find themselves in a situation when they have to participate in such programmes. And also, keeping under tighter control those who wish to make money out of this. We must not let business interests prevail over the birth of children and the protection of life.
Although it might not be possible to separate the two, but would you say the same if I asked you as a Reformed pastor and not as a politician?
Yes, absolutely! As a pastor I have counseled couples who took part in the in vitro fertilization programme. It is a process that takes its emotional toll on people. I respect the determination that these people have, sacrificing everything in order to have a baby. I can say I have been enriched spiritually by their affirmation of life.
Article by Zsuzsa Fekete
Translated by the Ecumenical Office
Photos by Dávid Némedi-Varga /RKK