The Moderator of the General Assembly of the Church of Scotland has visited Ukraine and Hungary to find out how donations from Church of Scotland members are being used to support people affected by the war. During the solidarity visit on 17-19 June, Lord Jim Wallace was joined by Rt. Rev. Susan Brown, former moderator of the Assembly and Rev. Ian Alexander, secretary of the World Mission Council of CoS.
Lord Wallace spent two days with Church of Scotland partners in the region to learn more about their humanitarian response to the impact of Russia's unprovoked military attack, which has led to the deaths of thousands of people and millions of refugees fleeing Ukraine.
Congregations and individuals have donated £367,277 so far to help the Reformed Churches in the area and the support is being put to very good use to assist people who have lost everything. Lord Wallace met with representatives of the Reformed Church in Transcarpathia in Berehove, a city in western Ukraine.
The Church is historically Hungarian speaking and has close links with the Reformed Church in Hungary. The Church of Scotland has had a relationship with the Transcarpathian Church for some decades.
Described as a "hugely worthwhile and poignantly rewarding" visit, the purpose was also to offer moral and spiritual support and express solidarity for people who have fled their homes within Ukraine as well as from the country and with those who work tirelessly to help refugees.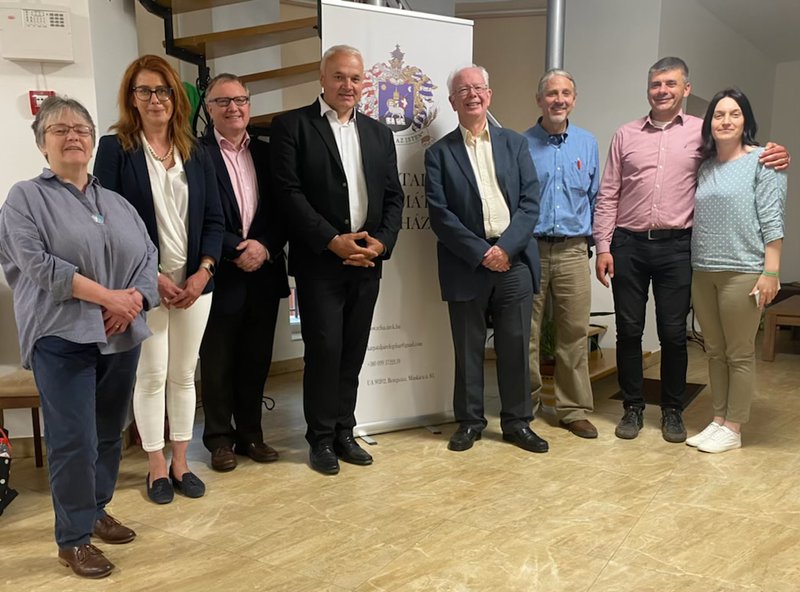 The Scottish delegation with Bishop Sándor Zán Fábián in his office in Beregszász/Berehove
Lord Wallace said: "The resilience and vision of the Reformed Church congregations in Ukraine is quite remarkable. Every bit as moving is their deep appreciation of our continued prayers for them, and more specifically for peace. We saw that the financial gifts of the congregations in Scotland are being well used in feeding the hungry and in offering support to families and individuals."
A diaconal house owned by the Reformed Church in Transcarpathia in Berehove houses 80 internally displaced people, mainly families. Two floors of rooms at the College of the Reformed Church are being used by refugees.
Lord Wallace spoke with Lilia, who fled the Ukrainian city of Kharkiv with her family. The English teacher explained that her husband is a dentist and when the bombing started, they hid in his clinic with their children and prayed to God.
They sheltered for a few days then decided to leave the city early one morning before the bombing started again.
The family packed themselves into their car and drove the length of the country and found sanctuary in the Reformed college in Berehove.
"Finally, after the Bishop's office, we were treated to a celebratory dinner in a nearby hotel banquet hall. The Scottish delegation was not the only international group visiting that day, there was another team – a group of Unitarian believers from Transylvia in Romania – as well as a small delegation from Utrecht in the Netherlands who represent an NGO that partners to bring supplies to areas experiencing poverty and war. Together we shared stories of mutual learning over a large meal with plenty of locally made meat, salads, and for dessert the famous and delicious palacsinta, a thin pancake with fruit or cheese (or poppy seeds!) filling. I sat between Janos, a local man who works for an international church aid organization and Neni Marika, both of whom were more comfortable in Hungarian than in English, so I got lots of practice for my language learning."
Read the personal account about the visit by our Resonate mission co-worker, Dr.Jeffrey Bouman, who alos joind the trip here.

Food support
Lord Wallace visited a local bakery built and run by the Church's Diaconal Coordination Office over 20 years ago to feed those in need in the community, making 700 loaves per day. Earlier in the conflict, it produced 2,000 per day to send to Kiev, the Ukrainian capital, to feed people in need.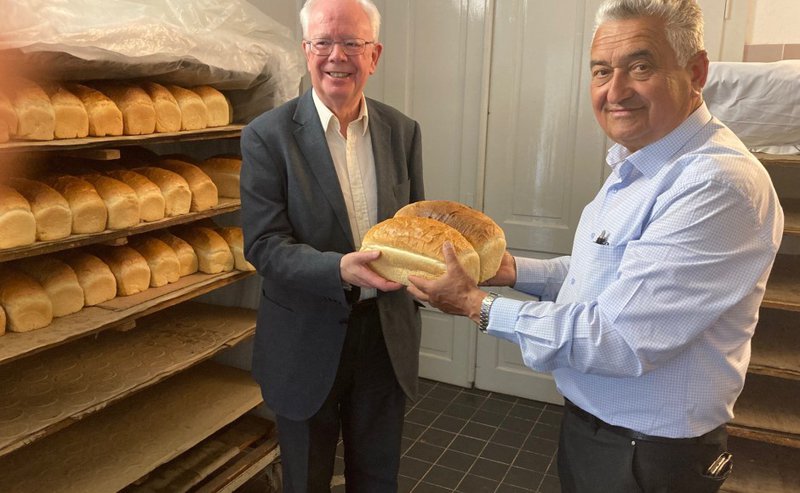 Jim Wallace moderator and Béla Nagy, Lay President of the Reformed Church in Transcarpathia and Director of the Diaconia
In addition, the Diaconal Coordination Office prepares 200 hot meals daily for the housebound and elderly, whether they are displaced or local. Alongside these war-related efforts, the Reformed Church in Transcarpathia maintains its commitment to the needs of the Roma people.
While other government institutions remain closed, they continue to welcome Roma children to their kindergarten and after school club. A new government rule demands that all schools must have a bunker in case of a missile attack, therefore the church has adapted cellars and storerooms to meet this condition.
Lord Wallace also heard that the Church continues its work through its radio station, in Hungarian and Ukrainian, where they broadcast programmes which speak about key issues from a Christian perspective, reaching 40,000-50,000 listeners.
He learned that Reformed Church in Hungary Aid is also providing vans to help move around goods and people to places of safety. Drivers need to cross to Hungary to fill with petrol as there is so little available in Ukraine.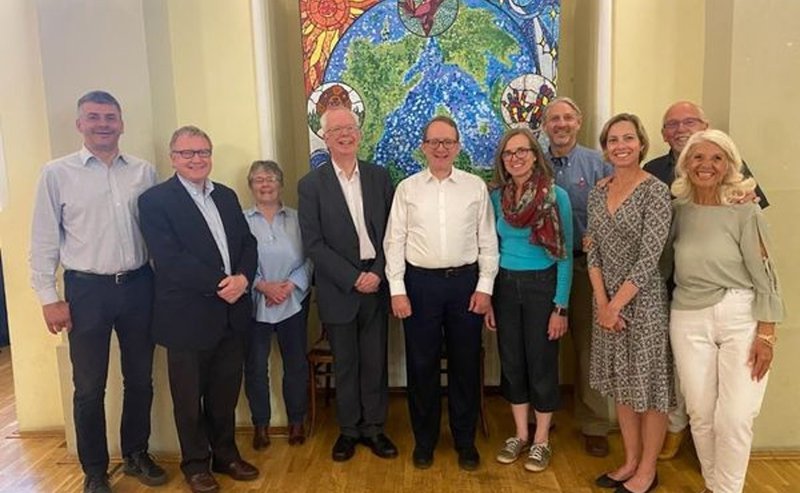 Lord Wallace also visited St Columba's Church of Scotland in the Hungarian capital of Budapest to hear about the important work it does to support refugees.
Minister, Rev Aaron Stevens and a key group of members told him that the congregation is providing food parcels to 25-30 families each week – around 80-90 people who have no means of support.
The church runs a café to enable people to socialise which is very important to those living in isolated places who do not get much chance to mix.
The young children have especially enjoyed the time to play with each other.