Eszter Dani was appointed as head of the Synod's Mission Office in 2012, and she played a pivotal role in strengthening the national Reformed Roma ministry. Rev. Dani, who is also a pastor in Solymár, has been senior advisor of the Mission Service since 1 January this year, and the National Reformed Roma Ministry got incorporated into the Hungarian Reformed Church Aid. Therefore this time felt right to interview the new senior advisor and look back upon the achievements of the past decade.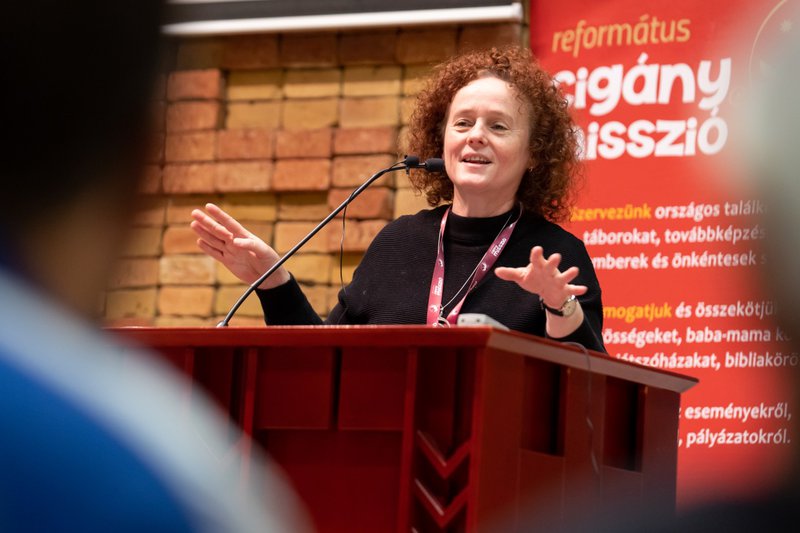 How did you get involved with the work in the Mission Office?
When Zita P. Tóthné Szakács (who is currently chairperson of the Hungarian Reformed Women's Alliance) retired, I was invited to fill the position, upon the recommendation of the Mission Committee. Prior to that, I served as pastor in Rákoskeresztúr for two years, but as head of the Mission Office I gave up my position in the congregation to focus entirely on my Synod duties for the first few years. My first assignment was drafting the Roma ministry strategy of the Reformed Church in Hungary, since the Reformed Roma Ministry Council, founded in 2009, had no issues with that. Before that, I had had the chance to work among the Roma on more than one occasion. I was very pleased that our church had realized: it must undertake ministry among the Roma, which requires the formulation of a detailed plan of action.
What experience in Roma ministry did you have before engaging in this work?
Taking this path was not something I had planned. I was appointed as assistant pastor to Munkács in Transcarpathia, Ukraine, and there was a huge Roma settlement in my area. I was thrown in at the deep end when I had to officiate a funeral service for one of the settlement's residents. Some of the Roma youth living there joined our youth group, and I was sought out by fellow Reformed pastors who were spreading the Gospel to the local Roma people. With their cooperation, we were able to launch a training for Roma ministry leaders and organise retreats and children's camps. It was there, in that destitution, which is much more severe than that of Roma communities in Hungary, that I experienced that the Gospel was able to change lives and influence entire communities. It was with this conviction that, upon returning to Hungary after 2002, I looked for opportunities to serve among the Roma.
So this is how you became "the pastor involved in Roma ministry"?
Many believe that I have a special calling to do this kind of work. I, on the other hand, feel that it is the calling of the church to spread the Gospel of God's Kingdom among those on the periphery and in need. If every congregation realized that they did have duty to serve the Roma in their area, there would not be any issues. I think that my calling, then, is to motivate the church to perform this duty, which it received from God, with fidelity.
However, already as a theology student, I had resolved to study congregation building and missiology, to be able to help pastors to find new ways, strengthening them in their mission identity. I did postgraduate studies in this area in 1994 and 1995 in Erlangen, Germany, and between 1998 and 2000 at Calvin Theological Seminary in Grand Rapids, USA. And more than a decade later, as head of the Mission Office of our church, I got the opportunity to enrich others with the knowledge I had gained. The Roma ministry is an important aspect, but it is only one of the pillars, besides the training of pastors and the renewal of congregations. A healthy congregation is characterized by proclaiming and experiencing the reality of the Kingdom of God in its community, therefore it does not discriminate in its mission ministry: it addresses each and every person not familiar with God or seeking God – including the Roma.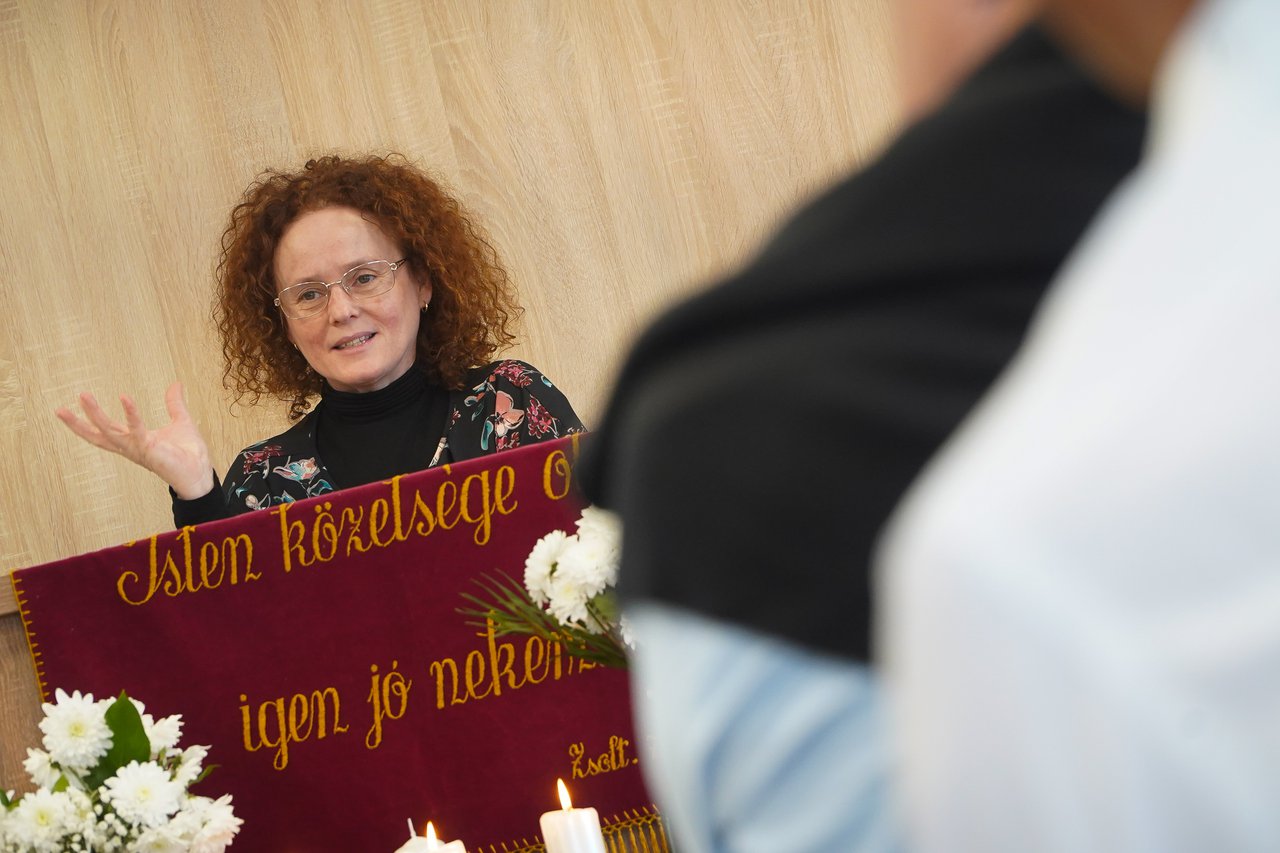 You travelled a lot while developing the Roma ministry strategy – what did you experience in the congregations and among the pastors?
I was surprised by the fact that many communities had at least one Roma elder; I even visited a congregation where there were five Roma members among the elders. I was also glad to see that in some places there were Roma employees. I was able to bring the message to many that Roma ministry is God's calling, and congregations must answer this calling. I feel it is a great achievement that pastors received information and felt compelled to act: there has been a shift in their attitude. Nevertheless, I was saddened by the fact that most of them had very little information regarding the Roma living in their town, many of them did not even know what kind of Roma groups lived in their area.
How were the results evaluated?
We worked with a sociologist who helped us on a volunteer basis, without getting paid, before leaving due to other commitments, so it was left to me and Attila Landauer, who was the then National Roma Ministry Officer. Later on, many people were involved in the development of the strategy – all of them volunteers. This fact is especially impressive because our strategy and action plan were drafted in little over a year, and it got adopted by the Synod in April 2013. This is a well-drafted document that works both on a theoretical and on a practical level. We have reason to be proud of it, because it still forms the basis of the Roma ministry of the Reformed Church in Hungary.
What were the first results after the strategy had been adopted?
The signing of the agreement between HEKS (the aid agency of Swiss Protestant Churches) and the Reformed Church in Hungary almost coincided with the adoption of the strategy – the Swiss agency started supporting the congregation ministry among children. In 2013 we organized a professional Roma ministry training for pastors, and in April 2014 we held the first National Roma Ministry Convention and Prayer Day in Káposztásmegyer. Here, for the first time, Roma members of Reformed congregations could come together from all over the country. In the autumn the same year, we had the first National Roma Ministry Conference in Berekfürdő, which, apart from networking, gave us an opportunity for the in-depth discussion of the issues we all face.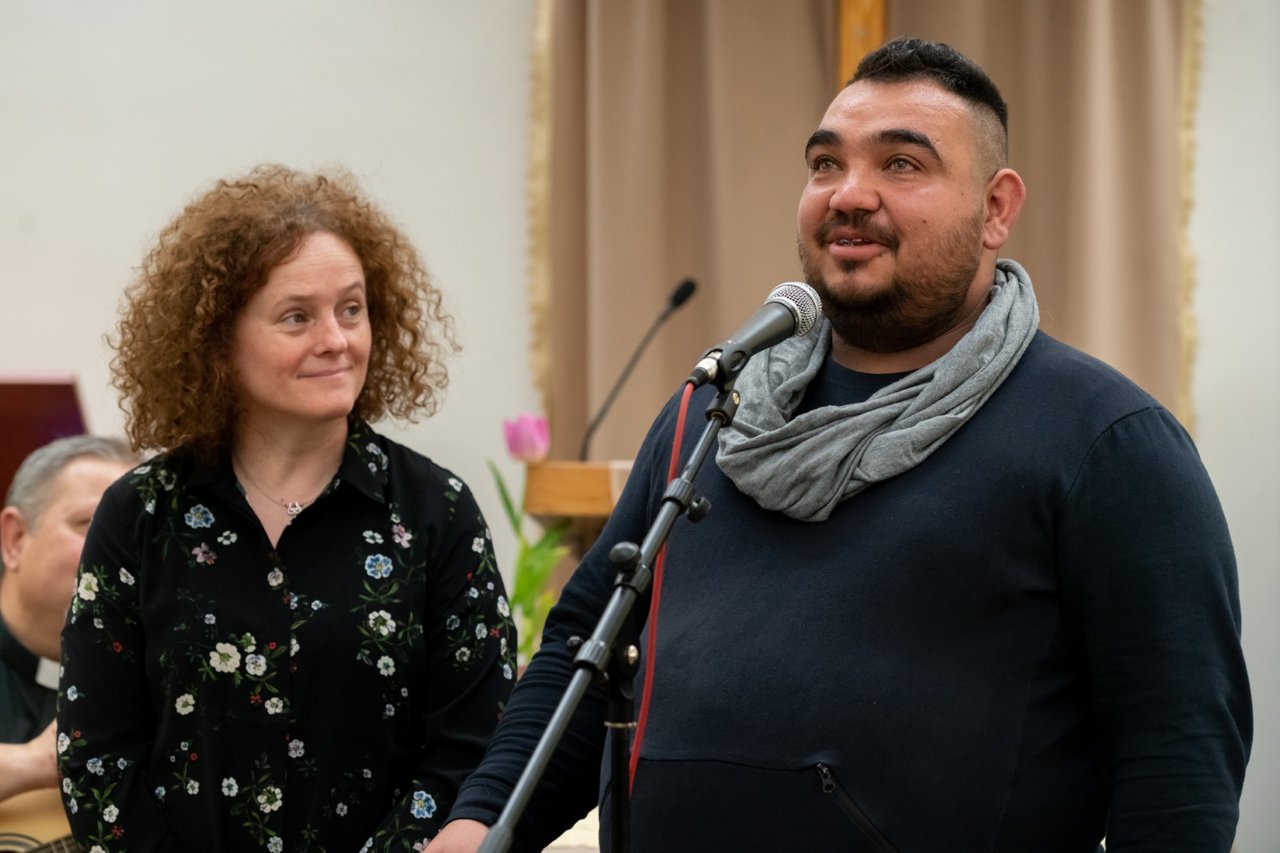 I imagine you never considered the coordination of national Roma ministry to be a one-person job. How did your team develop within the Mission Office?
While developing the strategy, I experienced rejections, but there were always five or six people around whom I could bounce ideas off of. Szabina Sztojka – who by now is an ordained Roma pastor – was the first who, initially as a volunteer, and then as a Mission Office employee, became an integral part of the team, aiding the work of the then-serving national officer. Thanks to funding received from HEKS, we were able to employ someone on a part-time basis, and then our communications activities took off, with the help of another part-time employee and the launch of our website. Extending this small number of employees was easier, I suppose, than starting from scratch with a group of volunteers. By now there is a really strong Roma ministry team, headed by Anita Tóth, the National Roma Ministry Officer. I am grateful for all of our colleagues, who see their job as more than a mere duty, and serve the cause with a calling from God, putting their heart and soul into it.
An integral part of the strategy is an action plan that defines medium-term plans – how did you manage to lay the foundations for those goals?
It has been over nine years now, and I am immensely grateful that the field has developed to such an extent. Back then it was only a dream to have a nation-wide Roma ministry, and we lay down dates and steps next to our goals. Not everything has been realized in the way that we had planned, but the development in the church's ministry among the Roma has at times even exceeded our expectations. The programme called "Road for Life" was launched by Bethesda Children's Hospital and the Reformed Mission Centre, which involved taking screening buses to disadvantaged areas of the country. When grant projects made it possible, the after-school programmes not funded by HEKS, as well as the Safe Start Children's Houses were taken over by the social inclusion branch. The Budapest Reformed Roma College for Advanced Studies has been operating for nearly six years now, which I was the initiating director of; it was out of our offices that, together with then Roma Ministry Officer Ágnes Nyeső and the current director, Kálmán Káli-Horváth, we started to lay the organizational foundations of the institution.
In 2016 and 2017 we organized Roma ministry children's camp, the professional background of which was really useful for the organizers of Arc Camp, launched in 2018, which provides 1500 children with lifelong experiences every year.
Romology has been incorporated into pastor training at two Reformed universities, in Debrecen and Budapest: at Károli University a Romology Research Institute has been launched, while Debrecen Reformed Theological University operates its own Department of Romology. These are all important elements of the strategy, as our hope is not to have a single pastor or graduate complete their studies at a Reformed higher education institution without having learnt about the Roma community. One of my greatest dreams came true when our church aid joined the "Emerging Settlements" programme, which aims to support the rural population of Hungary, including the Roma, with a complex approach – just like it is described in our strategy.
I must point out that it is not the Roma ministry that has a strategy; it is our church that has a Roma ministry strategy. The National Reformed Roma Ministry, the team coordinating the church's Roma ministry, contributes significantly to making the objectives of the strategy come true. Nevertheless, our eyes are on the big picture, and we are happy to support each other's work, since regardless which organizational unit actually performs a task, it still works towards implementing the strategy.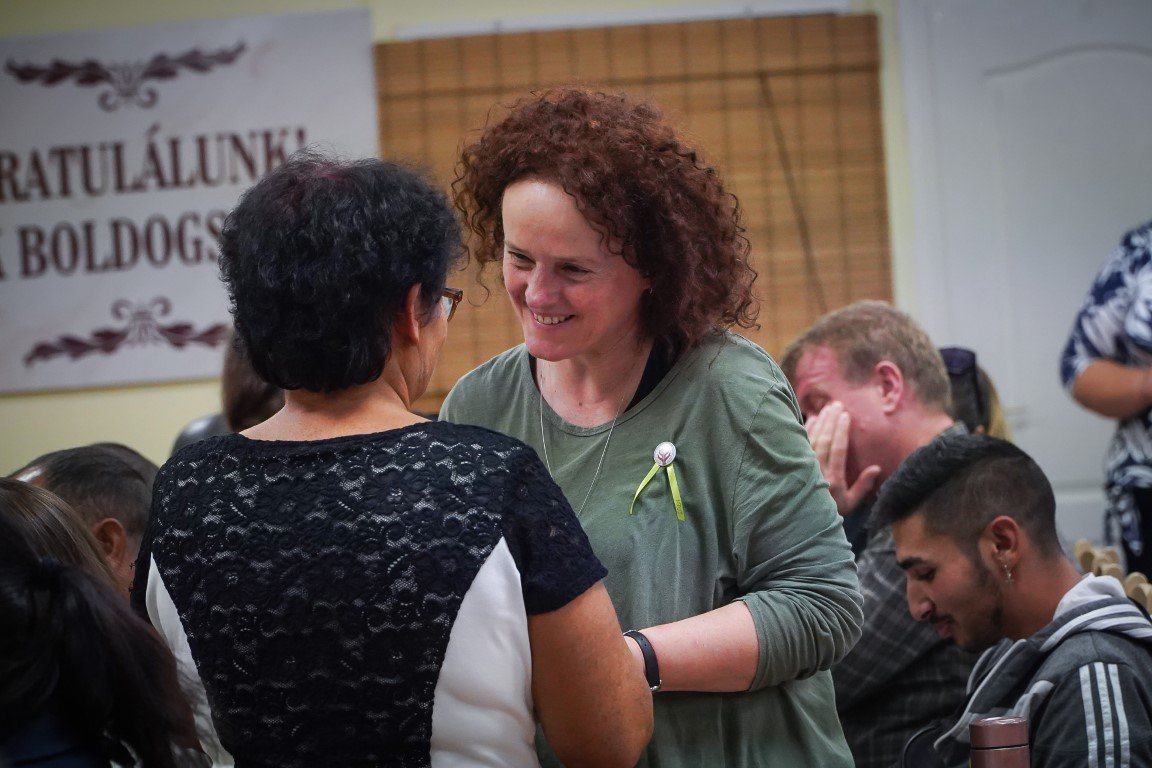 In your position as head of office between 2012 and 2015, you did not serve in a congregation – did you miss the church pulpit?
It is true that I was not an active pastor in the traditional sense, because formulating the Roma ministry strategy and actively supporting the work of the Church Vision Committee consumed all of my energies. A large number of meetings, presentations and even worship services were all part of my job, all of which I consider to be the work of a pastor. Also, as head of office, I got the opportunity to see the operation of our church from a different perspective. I visited one congregation after the other, attended presbytery general assemblies with questionnaires for the developing strategy, building a network of relationships in the meantime. This way, I was able to devote all my energies to the work of the Mission Office. Then in the spring of 2015 I was appointed as substitute pastor at the German-Speaking Reformed Congregation, but I also continued my Synod duties. Despite my best efforts, I felt that these parallel positions were not feasible to maintain at the same time: it was next to impossible to perform well in both positions.
In your view, what has been the impact of the National Reformed Roma Ministry on public opinion within the church over the past nearly ten years?
Today, in 2022, the Reformed Church in Hungary is serving among the Roma with a great deal larger amount of financial and human resources than in 2013. Our ever-expanding team of colleagues have directly or indirectly contributed to the realization of the above-mentioned goals, and played a part in keeping a constant public discourse alive regarding the significance of this area of ministry, which should not be ignored by any congregation. Everybody knows that the Reformed Church performs ministry among the Roma. Pastors turn to us when they are appointed to a place with a large contingent of Roma residents, and seeing at our national events our Roma brothers and sisters who are part of our church is a true delight. We still have a long way to go in terms of reducing prejudices, but I do think that Roma ministry is something that people are aware of, which is a good position to build on.
Do you have personal experiences of a change in attitude?
I know several pastors who, although not downright hostile, but used to be indifferent to Roma people, and now support their Roma colleagues. I felt it especially in the case of Budapest and Debrecen theology students that something has begun to change: they are no longer afraid to share their reservations with us before a conference or study trip, and they are just as open to discussing their positive experiences afterwards.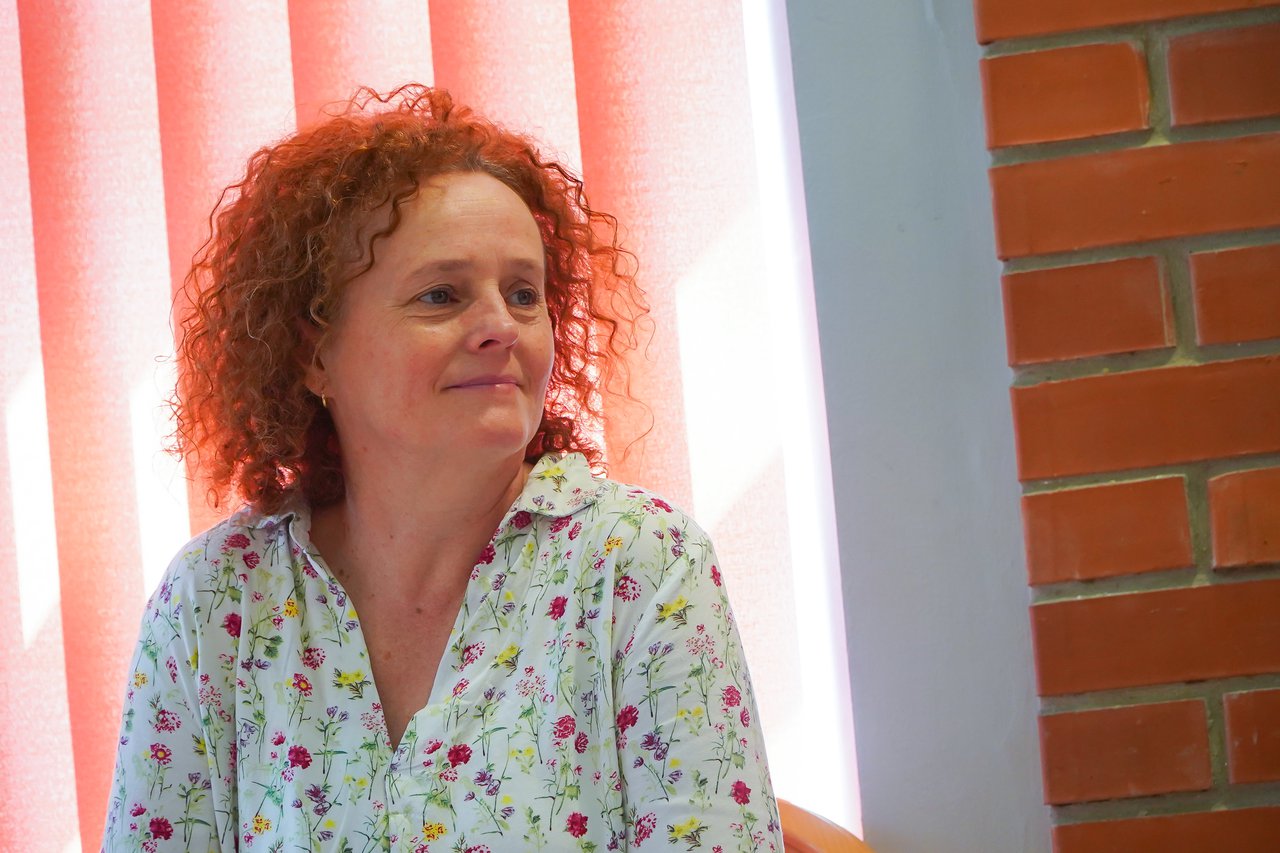 What have been the major milestones of the past decade?
The HEKS funding and the launching of the Nation Programme definitely come to mind. In 2015 we were able to organize the first Reconciliation seminar that aimed to promote reconciliation between Roma and non-Roma populations, and in 2018 we launched a Christian community developer training called Together – For One Another. Our public profile has become more recognized since our website got started and our book of interviews was published.
Do you have any regrets, looking back on this period?
The employee fluctuations and their impact on our team were difficult to deal with. There were also some conflicts and hurt feelings during our work with our Roma brothers and sisters. Afterwards, it took a lot of work to restore the former loving atmosphere.
What are your hopes and wishes for the future of Reformed Roma ministry?
I would like to see more and more congregations where the Gospel is spread with a holistic attitude, in the name of reconciliation, health and hope. There should be a healthy community life where there is a place for Roma people. Several elements of the ministry have been realized already, but the whole picture is not ready yet. And of course I ask for many blessings on the Roma ministry team so that they can develop further in a dynamic way in their new organizational unit.
Since 1 January, you are an advisor of the Mission Service, and the National Reformed Roma Ministry has been incorporated into the Hungarian Reformed Church Aid. Are you going to miss working directly with your Roma ministry colleagues?
Letting go of something that was a central element of my work for nearly a decade is a process of mourning, naturally. But even if not on a daily basis, as senior advisor of the Mission Service I will still participate in developing professional ideas, which is bound to have its own exciting challenges, duties and encounters.
Translated by Erzsebet Bolcskei