The connection that Very Rev. Dr. Ivan Patterson and Mrs. Maureen Patterson, of the Presbyterian Church in Ireland, have with Hungary has been 20 years in the making, culminating with their current trip to Budapest to encourage and learn from students and ministers here. The RCH sat down with the two of them after the November 2015 Synod meeting to discuss the end of their time here, how it will continue to impact them in the future, and the Very Rev. Dr. Patterson's thoughts on the role that the church will play in the coming year. 
What were your initial reasons for coming to Budapest? What drew you here?
Ivan Patterson: About 20 years ago, the congregation where I was a minister decided they wanted to have a link with Central Europe and that link began with a village church in Transylvania called Yakohodos near Oradea (Nagyvarad). We began that relationship with the church there but we always flew to Budapest, spent one or two nights in the city, and then went on from there. Over the years we got to know more and more people in Hungary, and then, some years ago, I came here for a two month sabbatical. That really whetted our appetite! But from the very beginning, we had a real interest in Central Europe and in the Reformed church, both here in Hungary and in Transylvania.
Maureen Patterson: I was chair of the Presbyterian Church in Ireland's work in Europe and the Middle East, so I would have been here to visit and encourage some of our personnel. We had a girl working in Miskolc and one in Transylvania.
Ivan: To add weight to this, we just really enjoy this part of the world. Budapest is a magnificent city and so we have enjoyed being here and getting to know the people. We've come here nearly every year for the last 20 years, for a short time at least.  Bishop Szabo, with others, came to Belfast to visit our Ministerial training college.  During that visit he extended an invitation to the Presbyterian Church in Ireland for us to come and work for a short time in Hungary.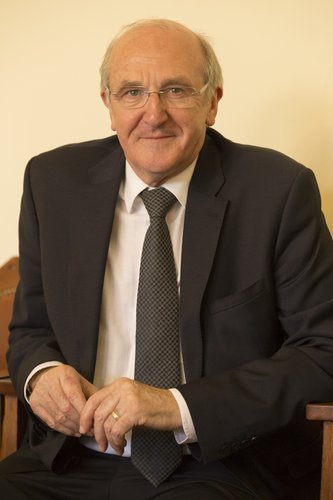 You've been here since September – what have you been doing during your time here?
Ivan: I'm a pastor with over 30 years' experience in church life both congregationally and in the wider church.  My task here was to talk to students and ministers about the challenges and opportunities to the church in the Western Europe and how we are trying to meet those challenges.
A group of my colleagues came here for a short time in October and we had a conference talking about the challenges of how we pastorally care for refugees; how we care for our ministers and the establishing of new church plants.
Maureen: I'm a former President of the Women's Association in the Presbyterian Church in Ireland and I was asked, from my experience in Women' ministry, to speak at a women's day in Paty and at a congregational weekend in Rede. 
Ivan: We've also been involved in conducting an English bible study in a congregation.  Maureen has been preparing most of the material for that. It's a bible study, but it's also to help people with their English as well.
Maureen: And each week it has been growing! Word has been spreading that it's not something to be feared if you don't have perfect English, you can still make a contribution.
What have you learned during your time here? What do you think you'll take back to Ireland with you?
Maureen: Mostly that we have been very encouraged.
Ivan: Yes, very encouraged by the students and the ministers we have met. I find them people of real depth, spiritually, and with a real openness to the work of God's kingdom and a commitment to the reformed church, which I think is really good.  I get the sense that the Reformed Church in Hungary is grappling with its place and its influence in society and the need for real spiritual work in the lives of people. As I said at the Synod, we in Northern Ireland have just left behind 30-something years of terrorism. In Hungary the years of communism have left its own shadow. There are lots of historical problems, historical questions, which ring true for both countries. How do you deal with the past? How do we reconcile ourselves to each other?  How do we reach out to one another and begin to understand one another?  How do we understand each other well enough so that we can live well together?  I think we have a lot in common from that point of view and much to learn from each other.
Maureen: For me, I think it has just been the dedication of the ministers in very difficult areas.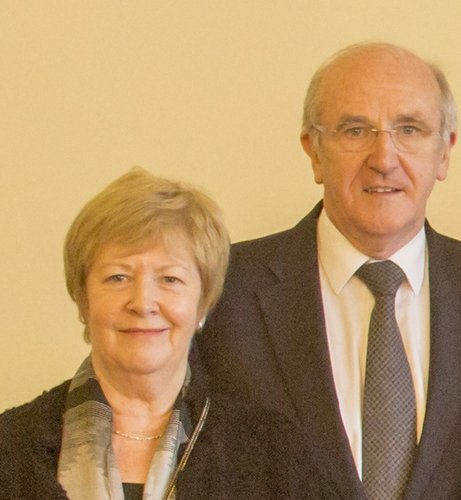 How do you see the cooperative relationship between the RCH and the PCI?
Ivan:  Maureen was involved in the initial discussions about facilitating bursars to come from the RCH to study in Belfast.
Maureen: Yes, the very first conversations about us starting a relationship, a system of providing scholarships to enable students from the RCH to come to study in PCI. I think we've probably had a bursar every year since.   I remember welcoming Dr. Literaty Zoltan as a student, one of the first to come. Now Ivan is working with him in the practical theology department of the Karoli Gaspar University. To follow someone who came as a young student and to pick up where they are now – it has been really encouraging.
Ivan: We hope this system will continue but we would also like to see some of our students coming to study in Hungary. This is something we want to encourage as we have much to learn from one another.
You were here during the refugee crisis this summer and the PCI supported the work of HRCA with a generous monetary gift. How did you view the situation and how do you see the wider church's role in all of this?
Maureen: Well it was a pleasure for us to stand with a partner church when they were so suddenly faced with this crisis. It was a privilege to be able to send some monetary help. I think we were also encouraged by the way church people responded to that crisis. And now I see a lot of the very good work being done in helping those who are recognized refugees integrate into life here through language studies and much more.
Ivan: We were aware of the news reports and read that Hungary was not getting the best headlines in the international press. I think the international news wasn't always fair to what was happening in Hungary and they missed reporting that ordinary Hungarian people were helping and playing a role in meeting the basic needs of the refugees.  
What is your vision for the church, both the wider church and these two specific denominations?
Ivan: I think my immediate concern is about how church members actually live out their faith, how church members are 'salt' and 'light' in the world. This is important as fewer people are attending our church services so not matter how good our services are we will not be connecting with those who are unchurched.
People still have a spiritual longing, and our churches need to engage with them, offering them the answer to their spiritual search. I think that we also need to build up a sense of community in our congregations that is welcoming where people can feel that they belong.
Your reflection at the Synod was wonderful, Ivan. Could you expand a bit on the Word being made flesh, and your thoughts on how we can be that for the world?
"The pivotal point in history – the history of the world, the story of creation, the history of human beings made in the image of their Creator; the story of salvation from the time of the Fall and right to the end of time.  All of this brings such implications for us as we minister in our own day and place. The Word, God, becoming flesh again and again, in and through us.
It's a story of the intertwining of the mundane and the marvellous. We marvel at the accounts of this Man who is Saviour, Lord and King, yet a Man who understands what it is to be human – to feel vulnerable, to be weary, to know what pain is and even death itself." You can read the full reflection from the Very Rev. Dr. Ivan Patterson here.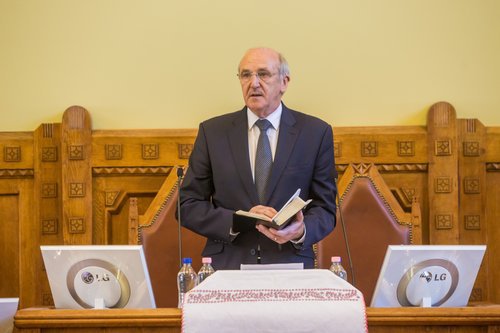 Ivan: I can only use my most recent congregation as an example, the one which I've just retired from. The church was open every day, not the sanctuary, but there was a reception area where members of the congregation were ready to welcome those who came in. It became a place for meeting, where locals came and others on holiday. It built up great relationships and enabled good conversations to take place often on spiritual matters.
For us, in a society where there is division, it meant that all sorts of people were able to meet. I think if people from outside the church are going to embrace the Christian faith, they will embrace it if they feel there are people who care about them and there is a place where they can belong. It's that sense of belonging that I think we need to create. We had other programs as well such as an after school club where young people would come.  This was a way to build up relationship and to show that the church did care. I really think that just making ourselves available to people is key.
Is there anything else that you would like to share with the wider world about your experiences here?
Maureen: I suppose it's good after retirement to still be able to offer something and to be able to use all those years of experience to some advantage.
Ivan: It's also, for anyone who wants to come, a beautiful part of the world. Budapest, in particular, is such a wonderful city. People here are welcoming and so, from a very social point of view, it's a lovely place to be. I think it's also a place where, like most places, the church is looking to discover its place in the 21st century. I know with us, and probably here as well, churches are not as strong numerically as they were so it's a matter of encouraging one another on the journey. And then together we might discover what it is God is calling us to offer each other.
As we near the New Year, the Very Rev. Dr. Ivan Patterson reflects on the coming year and his hopes for the church in this time of great change.
"As we begin 2016, we see international conflict involving more than 80 countries and the unfolding consequences, along with global warming and climate changes, are causing human migration at an unprecedented rate.  There is a strong case for hopelessness all around us.  But as Christians we should not give in to despair. We are called to hope for we know that what we see is not all that there is and it is not the way all will remain.
We must continue to pray for our world leaders that they will work together with vision and eagerness so that out of the brokenness of many nations a new day will come so that 'nation shall not lift up sword against nation, neither shall they learn war anymore'. (Isaiah 2:4)
As the Church, let us pray that in 2016 we will be filled with new enthusiasm to continue to be a wholesome influence in our societies. As Churches we need to actively encourage our people to discover how God wants us to use our energies, time and experience for the good of all people. To do this we need to use our gathering times of worship to equip disciples for the times they are scattered for witness. We need to engage not only their head, but also their heart and hands as well. To encourage our members to live well in the worlds of education, business, politics, sport, media, the arts and entertainment. We may encounter incredible apathy and even opposition to the Christian message and meet people who see no need for God in their lives, but we can recall how Jesus equipped the few to influence the many.
None of us live only to ourselves.  The Apostle Paul thanked the Philippian church for 'their partnership in the Gospel'.  So, may the future partnership of our churches be mutually encouraging and a resource to equip one another for God's mission."
Interviewed by Kearstin Bailey
Photos: Vargosz