We talked to Sándor Fábián Zán, Bishop of the Hungarian Reformed Church in Transcarpathia (KRE), candidate of the 2022 elections. Among other things, he talked about the past 16 years of his term as Bishop, his current life situation, the present and the future of the Reformed Church.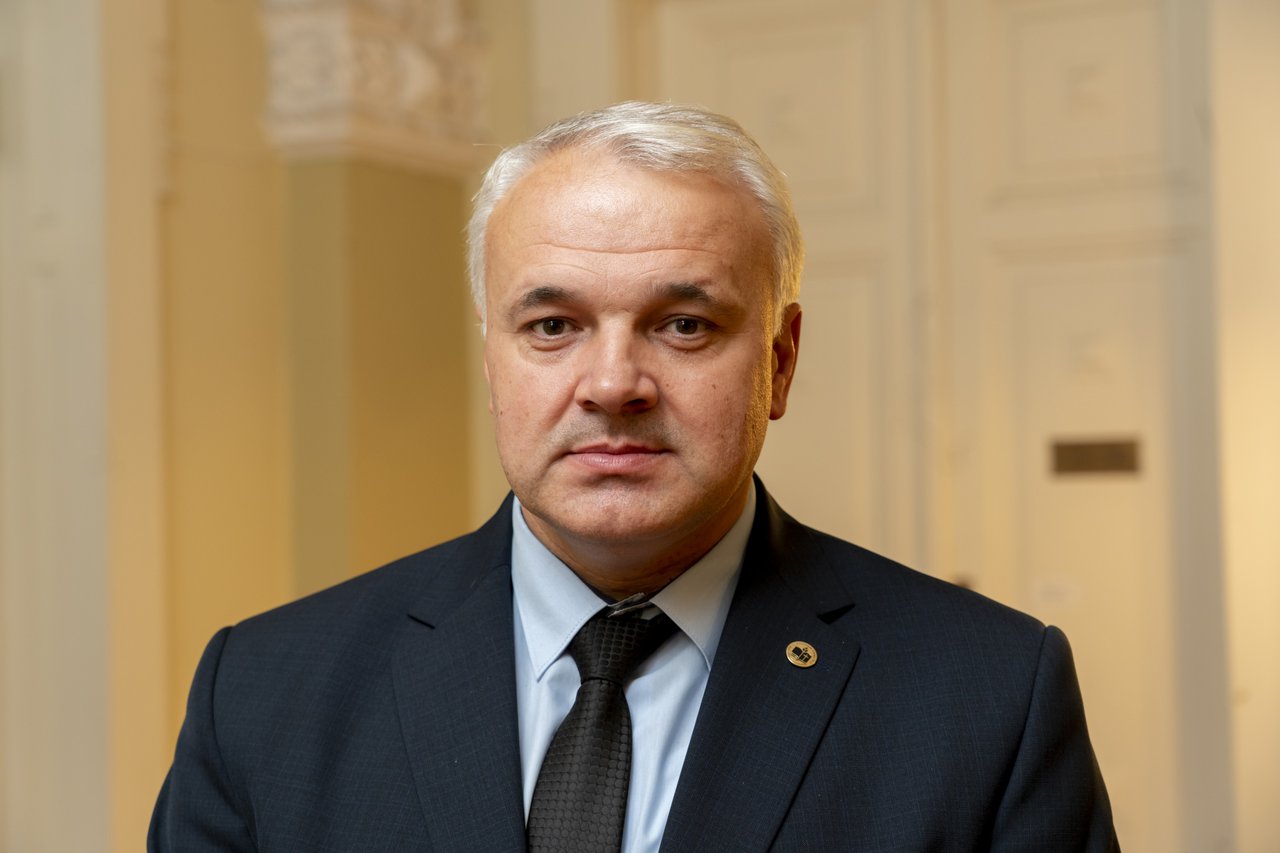 As we approach the end of the year, how would you describe the year 2022 for the Reformed Church in Transcarpathia, Ukraine?
As the year draws to a close, I look back with a grateful heart on the past several months, despite the war and all the trials and tribulations that it brought, because since the war broke out in February, the CDF has stood strong and confident in God amid all of its challenges and trials. Since the 24th of February, a new era has come upon us, making our lives difficult and bitter, but the Christianity of the people here has not wavered. I think that in the way the Church welcomed and helped refugees, in terms of mercy and Christian faith, the people of Transcarpathia and the Reformed Church have passed the test. People who once saw us as the enemy have now found us practicing mercy and providing help. Our pastors have all passed the test, because they have all stayed in Ukraine, and are doing their jobs, fulfilling their tasks and mission in difficult circumstances, but successfully. Looking at the past year, the main accomplishment was maintaining the educational system, keeping schools and kindergartens open. We have a very good rate of secondary educational attainment, which serves as a solid base for the Hungarian population in Transcarpathia, and which provides security for families living here, helping them stay in their homeland. Many of our students also continue their studies, for example, at the college. In the churches we have also been able to hold on-going programs: confirmation weeks, vacation Bible weeks, and youth events. Thanks to these efforts, we have reached thousands of young people, including refugee children, who have participated in these events. We have also tried to maintain programs for adults, such as evangelisation weeks, and we have tried to maintain stability in various mission sectors. And it is perhaps worth mentioning that a young pastor has also come home to Transcarpathia, Dávid Baksa, who is currently serving in the church in Čap. All this is due to faith in God and the background that the Reformed Church provides for a young person to come home.
What is the task of the Transcarpathian congregations in the current situation, so that our communities can survive and continue to function actively?
The vulnerability produced by the living situation of the Hungarians of Transcarpathia is not only a difficulty and a test. It is also a time that turns the eyes of many people towards God. At such times, both the Reformed and the Catholic communities need to pay special attention to the people, who deeply need the ministry and presence of the Church. This is a community that cannot be divided into parties, as happened during the First and Second World Wars. Churches have the staying power to reach the downtrodden and the lonely. The platforms of the Reformed congregations are also the arenas where people live in community, where those who need help and those who can help can come together. I believe that faith communities are increasingly more relevant in everyday life. We need the church to be a partner to help, and to be a safe community for people who need a listening ear and a helping hand. I think it is important for churches to open their doors wider and to take notice of those who have no one and nothing, because their situations are very dangerous. Hope gives life, but hopelessness takes life away. Our mission is to help the fallen, the sick, the lonely.
What problems and challenges have you had to face in the circumstances?
A variety of different situations have arisen. Power cuts have put our educational and other institutions at risk. But God has provided for us and we have been able to distribute generators to all of our institutions. There are some challenges that have to be solved centrally by the diocese, and others that have to be addressed at the congregational level or by the superintendent. Our educational institutions are all stable, which provides security for hundreds of families in Transcarpathia, enabling them to stay at home. We are trying to set an example of how to do this in home care. Our work is very diverse, but we continue to strive for stability, we cannot afford to relax our efforts. If the congregation, the pastor and the caretaker - who have an overview beyond their own congregation - see that something is working better elsewhere, they should strive to make things work better for them by adopting best practices. In this situation, we must not relax, but seek stability. Of course, we are also very seriously affected by emigration, which brings about the temporary weakening of local churches. But we are also trying to help the congregations at the diocesan level in this respect. Already in March, we launched a program of assistance within the church, whereby we paid the utility bills for March, April and May for those congregations that needed help, thus relieving them of the burden of the higher bills in autumn. Ultimately, there may be less disposable money now, less opportunity, but the churches must continue to function. We have tried to provide them with stability.
In this time of crisis, is there more work for a bishop?
I have never been idle, twenty-four hours is twenty-four hours for me. I have different tasks now than in times of peace. There is less time for church activities that are just as necessary, but now there is something that supersedes the usual routines. I find that the work is much more, the responsibility is greater. I also have a lot of hesitation in me about how to deal with various situations. But I see that the friendships of past years are now very important. A lot of people call and try to help, and thanks to this we have been able to solve individual and congregational situations. For example, it has not typically been my job to coordinate aid, but in the current circumstances I have had to do my share of that. I had to deal with the refugee situation, and getting the educational institutions up and running was also a big task. But there are also requests of a completely individual nature, for example, a disabled young person left alone in their home, who will have a hard time this winter, who needs to find accommodation in Hungary in a caring church institution. Another example is that of a soldier who had to undergo surgery for his wounds. I have never had such a busy and stressful time in my daily work since I became Bishop.
Allow me to say a little bit about this: how do you see the last four bishops' terms and how optimistic are you about the existence and future of the Reformed Church in Transcarpathia?
I can say that it has been a long and fruitful period for the whole Church. I had very good predecessors: I had the opportunity to learn from Bishop Lajos Gulácsy as a bishop, I had the opportunity to work with Bishop László Horkay for four years as a bishop, I had the opportunity to gain experience that I still use today. Both of my predecessors were bishops of the new era who dared to establish schools. In my time, I only had to carry forward the initiatives that God had provided under their leadership. I am grateful that in this episcopal period that I have had, all of our schools have been renovated. I look back on this period with a sense of gratitude for everything. Twenty years ago, under my archbishopric, we created the KRISZ, of which I was the first president, which was able to provide an experience and a faith experience for many young people, and they became committed followers of Christ. I believe that the nation lives in the church and in the school. We live in a time of world crisis, and we have the foundations and fortresses that will protect us for the years ahead. Almost every church and parish has been renovated in recent years - all built for the future, for the next generation. God has placed me in ministry at a time when many spectacular things have happened. And spiritually, there was growth for which I feel true express, because so many people have become mature people of faith through youth. For me it is a great miracle that I remember young people from Confirmation, from KRISZ, who are now respected educators, accountants, college teachers in this country. And I believe that they stayed because they have a sense of responsibility and they believe that God's providence is at work here. The Reformed Church of Transcarpathia, apart from its pastors, currently has more than a thousand official employees. When I started my episcopal work, we had only eight. Huge developments and investments have been made in recent years. Many people may see it differently, but the Carpathian Basin kindergarten program was started by us in Mezővári, not at my initiative, but with my participation. And this became a kindergarten project. First of all, a Fairy Garden Kindergarten was built here. Those students who faithfully stayed, who later became adults of faith, all show that God blessed this time. We didn't allow things to go to waste, the church was present at the founding of the college, and we are connected by many threads. I am thankful for the past because God has clearly blessed us. And as for the future, we can be hopeful because we now have a framework for the church to function in which we can live our faith. All that we have must be cherished, all must be carried forward and developed.
How would you assess the cooperation between civil organisations and churches in Transcarpathia?
I see that there is definitely cooperation. Looking back over the past few years, the national commitment of the historic churches was tangible and visible. This was also evident in education, with everyone trying to do their part and to be faithful. In the field of social work, we have not gotten in each other's way, everyone has done their part. We cooperate with different organisations, such as the Red Cross, and the Maltese Relief Service. In small municipalities there is sometimes tension, but there has never been tension at the level of the bishops, we have always been able to work well together.
What is the attitude of the county and the country towards the Reformed Church?
In our eyes, the relationship is always good. The Transcarpathian Reformed Church is also a member of the Council of Churches and Organizations of All-Ukrainian Churches and Organizations. We have found that we have been taken seriously there so far. In 2017 we were able to chair the council, which was absolutely fruitful. The Reformed Church in Transcarpathia deservedly receives acceptance and recognition, because we are open and we try to help. In the area of faith life, if it had not been for the epidemic and the situation today, we would still be having family days of silence, which was a little enviable for everyone, because as a church, not many people have held such events. I was not the one who claimed the authority of the Church, it was easy for me to prove, after a Bishop Gulácsy and a Bishop Horkay, that our Church is a Church that is faithful, persistent and helpful. My predecessors were faithful in far fewer opportunities and made a credible effort to stand their ground, I was given more, and I must be faithful to more.
What would you like to say to your readers in anticipation of Christmas?
In our Lord's Prayer we ask that "Thy kingdom come." Jesus asked that when we pray, we pray like this. We must live our whole lives waiting for the Messiah to return. Now, in 2022, living under the shadow of the threat of war, we must take this request more seriously in our Lord's Prayer, which also means union with his will. When many cry for arms, let believers cry for peace. God does not want man to perish, but wants him to live. We need to be more focused on each other in this Advent season, to notice those who have no one to care for them. Because those who are waiting for family reunification, for the end of the war, those who are waiting for grandchildren, they have a hope that gives life. Those who have no one, and nothing, must be watched over so that they do not perish. They need to be told of God's love. We must pray that our expectations will be fulfilled, that people will experience God's love and protection. Let this part of our Lord's Prayer be underlined, "Thy kingdom come," which Jesus promised us. I believe that in that kingdom there is a different order, a different set of values, but that only there can man truly experience the presence of God and happiness.
Translation of an interview originally published at karpataljalap.net