Due to the war in Ukraine, human lives are at risk, people lack basic supplies and have been forced to leave their homes. IDPs have reached the Western part of Ukraine and refugees are arriving to Hungary in growing numbers. The Hungarian Reformed Church Aid has been providing emergency response from the first day. Daily update.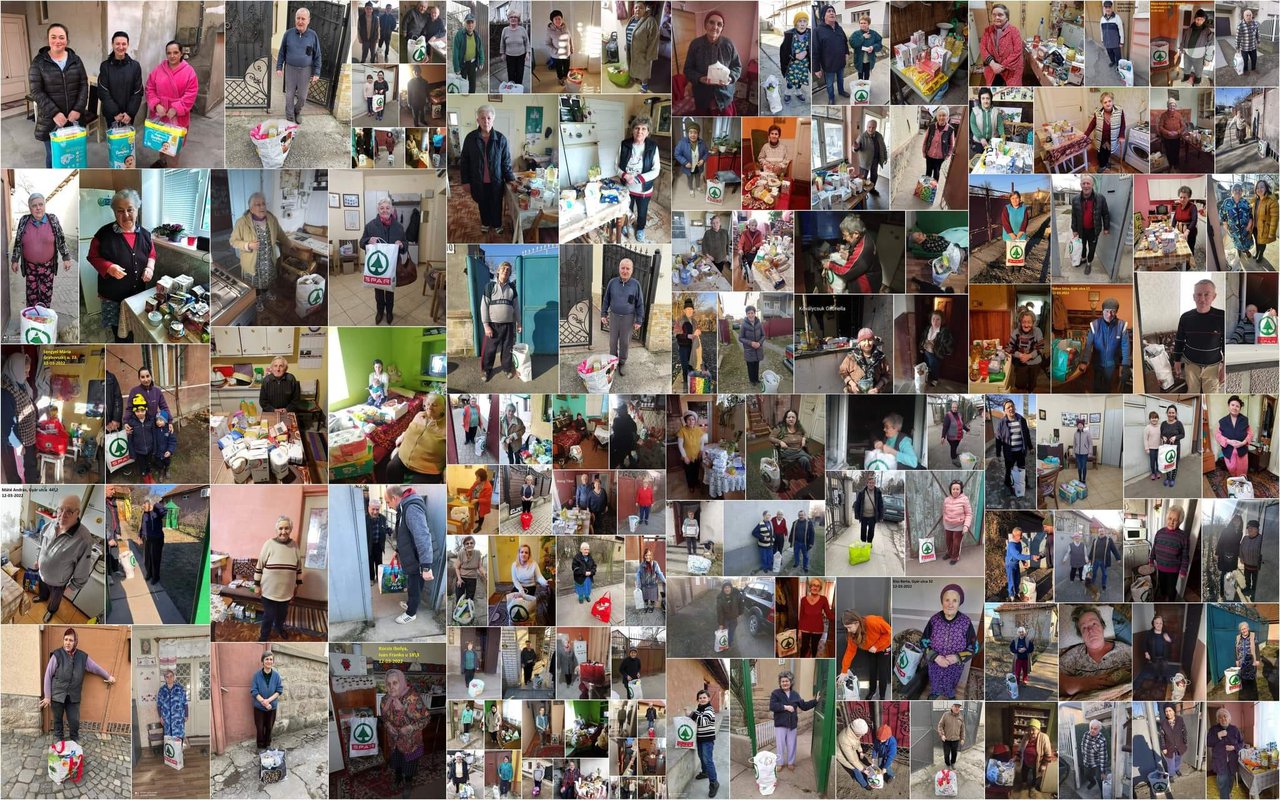 More than a hundred tonnes of donations for Transcarpathia (08:46)
On 14 March, the team of the Hungarian Reformed Church Aid (HRCA) set off for Transcarpathia with a total of 10 minibuses, carrying more than 100 tons of donations. They took donations to Csongor, Rát and Nagydobrony, where local churches and municipalities are themselves taking in an increasing number of refugees. They also visited the railway station in Csap, where thousands of people leave every day for Budapest, leaving behind their homes and all they have achieved and all they have been able to take for granted in their lives. HRCA not only brought food and hygiene products, but also volunteers to help with supplies and donations. The HRCA asks everyone to carry the victims of the armed conflict in prayer, so that peace and security may return to their lives as soon as possible!
Hungarian Reformed Church Aid staff and volunteers work uninterrupted on the national holiday (10:12)
National holiday did not influence the relief at any of the sites where the Hungarian Reformed Church Aid staff is working. This was confirmed on the organisation's social media page with a picture of a cockade pinned to the logo on an HRCA sweater. "Our revolutionary-hearted staff and volunteers, sparing no effort or energy, are determined to serve on this day of our national holiday. We swear, we swear that as long as God allows, we will help," they wrote referring the National Song, a Hungarian patriotic poem written by Sándor Petőfi that is said to have inspired the Hungarian Revolution of 1848.
As the number of donations increases, so does the administration (12:38)
In the past two and a half weeks, the donation drive has been huge, but the administrative work is also increasing, Anett Fehérné Kiszlinger, donation coordinator, told www.megvanirva.hu. "There is a lot of in-kind donation, and we, the employees, have not increased in number. Still we can handle the situation thanks to our volunteers. God always takes care that there are enough helping hands. For example, there is also rehabilitation work going on here at the charity, they sew teddy bears in two shifts and their mentor helps sort donations when needed. We collect, sort and deliver donations to the larger collection depots. We are on call at weekends, when we use volunteer transporters to deliver the donations," says the donations coordinator at the HRCA Transdanubian centre.
The extra physical work is done by the many volunteers, but the administration has also increased recently. "Everything has to be put into a warehouse system and what we give out has to be registered in the same system. You have to think of it like a grocery store - you have to be able to keep record of the income and expenditure, as well" says Anett Fehér.
The Hungarian Reformed Church Aid calls for immediate assistance at Western railway station of Budapest (15:31)
The Hungarian Reformed Church Aid is calling for immediate assistance at Western railway station of Budapest. The greatest need is for bottled waters, sandwiches, fruits, soft drinks, small packets of shower gel and shampoo, and instant soups. Donations are welcome on the spot!
Donations that reach their target (20:23)
Emergency response is not just about fundraising, but also about transparent communication about how donation is used. They reformed community from Berehove, Ukraine, informed donors about the 'journey' of the donations to the beneficiaries and their work on the social media platforms of the Reformed congregation in Beregszász/Berehove.
As they write in one of their posts, at first panic and fear prevailed, but now they are organised to help those who come from inside Ukraine. The first major aid shipment was delivered to a reception centre run by Protestants in Poljan, and then they sent more donations to Berehovo's reception points and shelters, such as the local Bethlen Gábor Lyceum, where they cook daily for the people staying with them.
In recent days, 30-40 church members have prepared food and medicine parcels for elderly people who have difficulty getting out of their homes or are without support, as well as for mothers who have been left behind. The donations are funded from their own resources and with the help of partner churches and individual donors.
"We support refugee families, mostly women and children, taking care of their basic needs, but our dear elders treat them also with homemade cakes. Every day we meet people looking for shelter or who have arrived without a change of clothes, and we try to find help for them in our congregation. More and more people are coming to us and as they speak Ukrainian, on Sunday afternoons we have a prayer meeting with worship for those who have found shelter in the city and the surrounding area, in Ukranian" they write in their post. In addition, the church meetings have not stopped. Services are held every morning at 8 am and on Sundays at 10 am in Berehove.
HRCA's daily operation in numbers
Information requested: 1728 persons
Transport requested: 25 persons
Accommodation requested: 26 persons
Mental health assistance: 49 persons
Medical care: 220 persons
Meals, drinks: 2047 persons
Hygiene and childcare products: 794 persons
Blankets: 131 persons
Number of persons on duty: 149 persons

of which volunteers: 125
of which health worker: 6
of which interpreter: 49
Edited and translated by Anna Derencsényi, international officer of the Diaconia of RCH.