Márta Sebestyén is a household name in Hungary, but why was she chosen by the leadership of the Reformed Church in Hungary to be one of the faces introducing the new Reformed Hymnal? In our interview with the folk vocalist we discuss childhood holidays, deeply treasured family relics, Reformed spirituality as well as the role of hymns and why it is good to sing, either with others or alone.
You have proudly referenced your Reformed roots, although you are widely known as a Catholic.
Indeed, I was baptised as a Catholic, and my paternal ancestors are Catholics from Vas County. However, my mother's side is a traditional Reformed family from the Alföld. She was born in Köröstarcsa into a cantor-teacher family, her grandparents and great-grandparents were pastors. In the end, prior to marrying my father, my mother converted to Catholicism to preserve the family peace, but this was little more than a formality, as the centuries-old spirituality, that stubborn faith without which Hungary might not have survived to this day, has lived on within her. I often say that these two worlds have converged in me.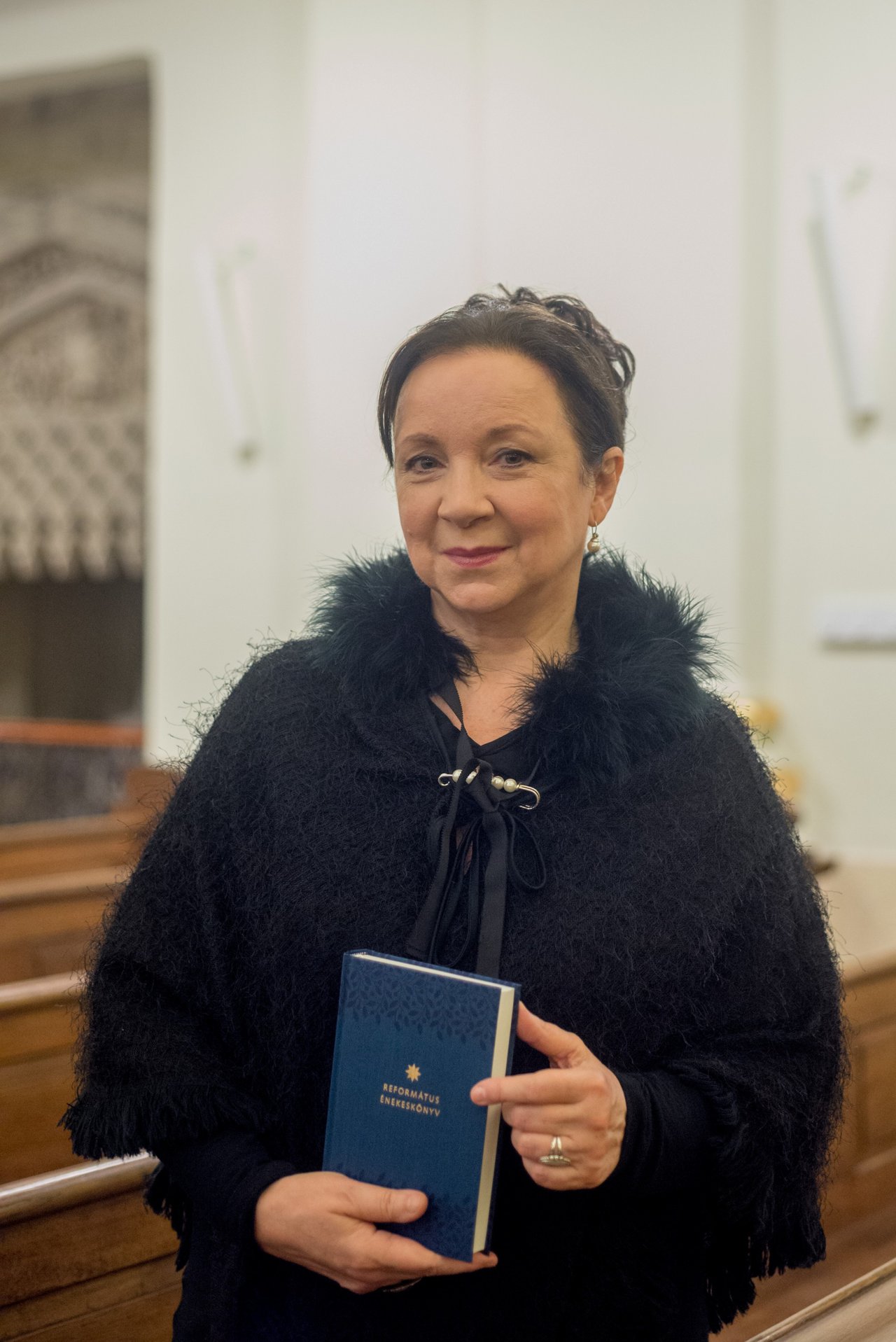 How has this duality affected your life?
As a child I would usually spend the summers at my Catholic grandmother's house in Vas County. It was an authentic peasant farm, in the early 1960s. It is good to have experienced that because this peasant world has completely disappeared by now. In the village there is a beautiful, quaint church from the Árpád era, which used to be full every Sunday – today it is empty.
My Reformed grandparents were teachers in Nyíregyháza. To this day, there is a plaque commemorating my grandfather, István Farkas, at the College of Nyíregyháza. My grandmother, née Ilona Szabó, was a truly meek daughter of a pastor. When we stayed at their place, we felt a deep faith, without formalities. Just like one can see in Reformed church buildings: they are pure, free from ornamentation. For me, Reformed faith is naïve and beautiful, which does not turn its attention to anywhere but to the Word. At my Reformed grandparents', the Scripture was read aloud after lunch – we were not allowed to leave the table. We would say a prayer, and then "sit tight and listen to the Scripture reading, and, of course, you will eat all that is on your plate". My grandfather was a strict but good-hearted man. He had beautiful penmanship; he was born to be a teacher. Ten years ago, when his memorial plaque was unveiled, his former students came to Nyíregyháza. Elderly people, over seventy, but they were chatting like young pupils. They walked up the old staircase of the school, visited their old classrooms, singing songs. They remembered and thanked my grandfather for the bond that he had created among them.
We have already arrived at the topic of singing. It seems, then, that you were familiar with Reformed hymns already as a child. How can one approach this ecclesiastical treasure of songs from the perspective of folk culture?
It is really simple. Depending on where you go to collect songs, you are immediately confronted with local church songs. Whether it is a Catholic or Reformed area, the religious songs of the given denomination are part of the repertoire of the local residents. In a traditional culture, religious faith and facing everyday struggles are so deeply intertwined that they are impossible to separate. And this is true for all denominations.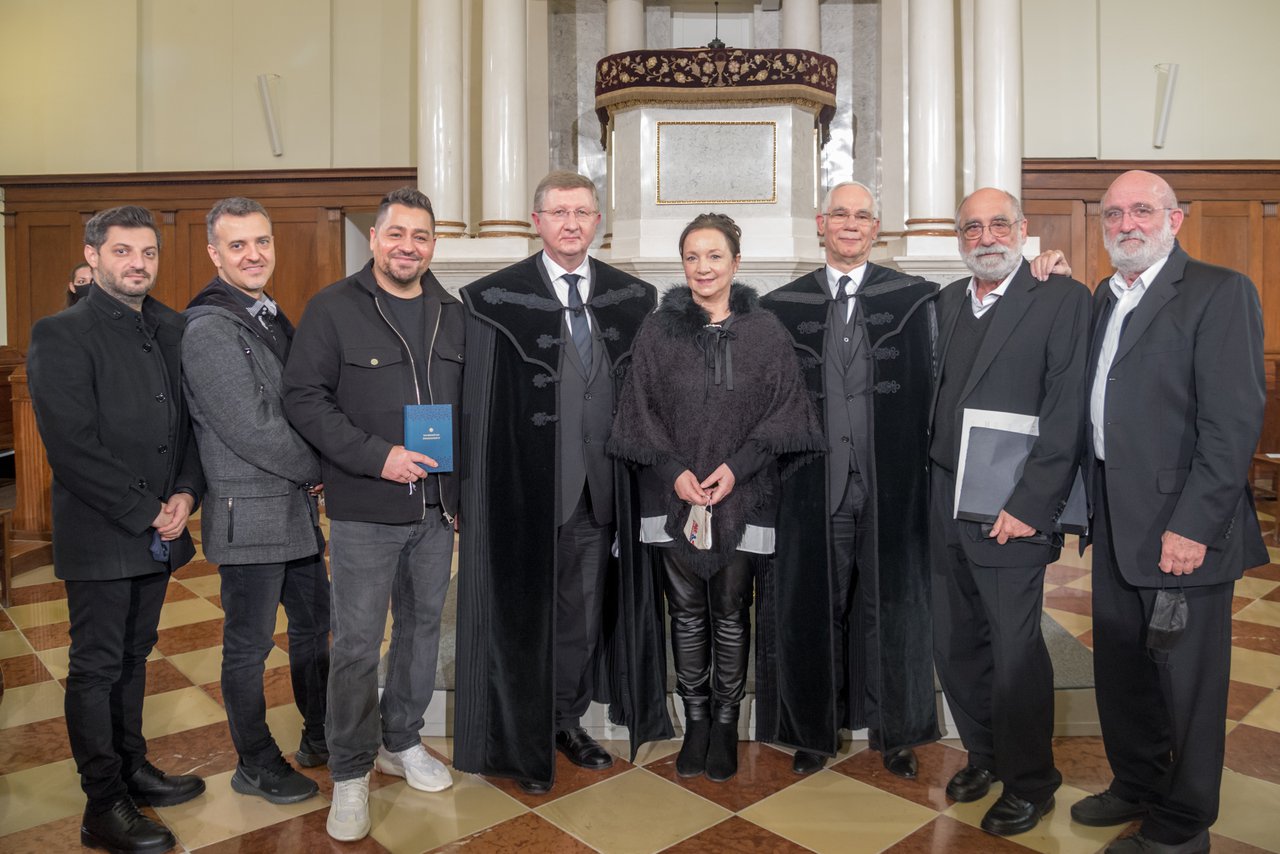 Can you still find people to collect songs from?
Predominantly I go beyond the borders to gather songs, because in present-day Hungary this type of "naïve" passing on of traditions has become rather insignificant. But even so, I have been pleasantly surprised several times. I visited places where I thought people only watched TV and listened to the radio so I would return empty-handed, but I encountered someone who was able to share something I had not been familiar with. That is why family traditions are so important to pass on. If we pass them on in an authentic way, the younger generation also feels that our culture is their own, and they are happy to carry it on, rather than seeing it as an obligation, a burden. This way they can experience the uplifting power that lies within singing.
The new Reformed hymnal was introduced in late November. You were one of the performers at the hymnal introduction worship service.
Whenever an opportunity arises, I am happy to join in singing psalms. I feel that any cultured person, regardless of their religious affiliation, should be familiar with at least a few Genevan psalms, especially if they are a musician. These psalms are simply a part of culture. Every Hungarian should know who Albert Szenczi Molnár is, and recognise psalms like "As the deer pants for streams of water" and "Lord, you have been our dwelling place".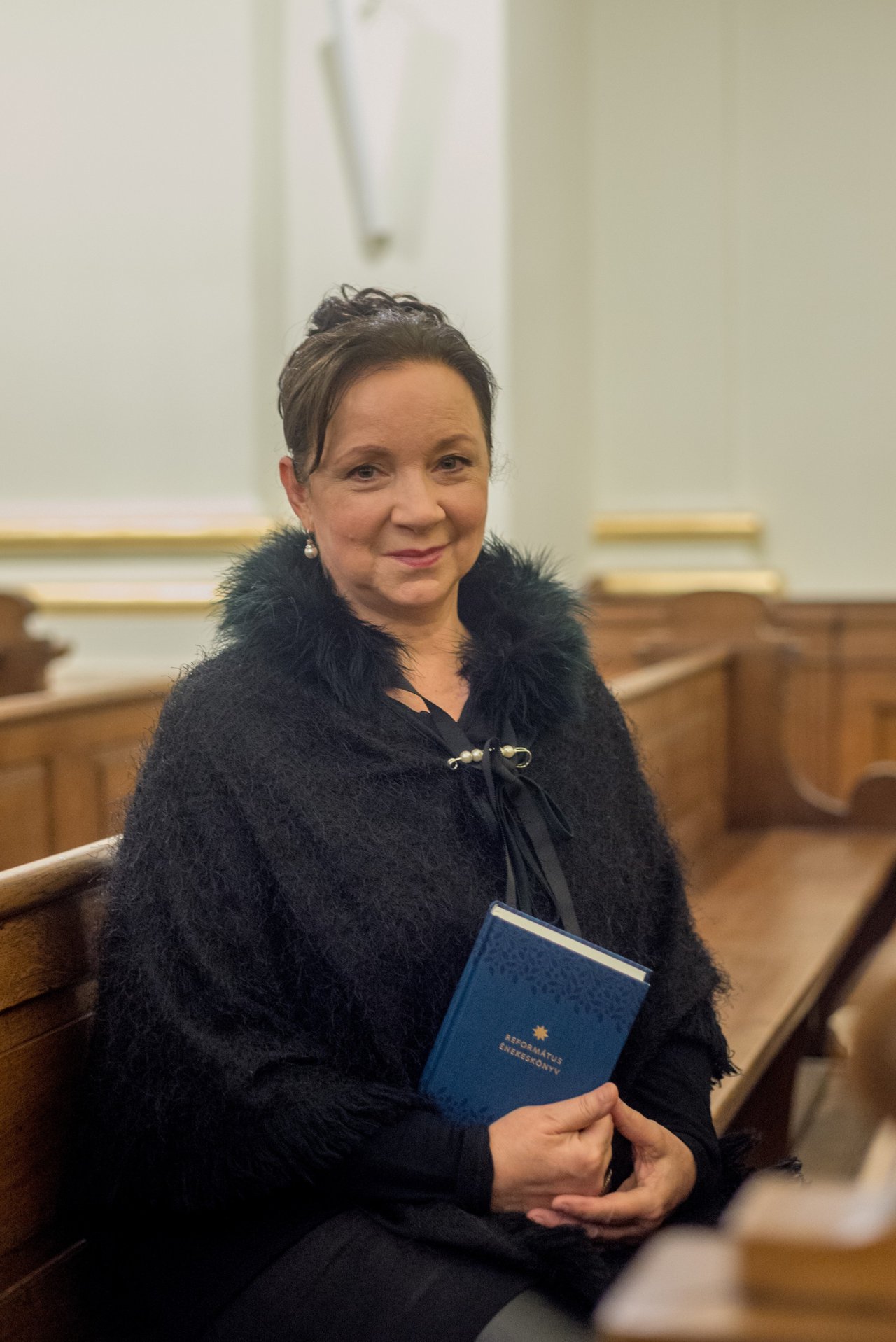 What is the purpose of psalms, what should they be used for?
Let me illustrate this with an example. I spent a lot of time in the Greek mountains, gathering songs. One day on a rocky path we encountered an old, Greek pastor in a black robe. We followed him to a small church. When I told him who I was, he asked me to sing something. As soon as I started singing a hymn, he bowed his head and put his hands together, without understanding a word of what I was singing. This is where the essence lies. These songs carry a spirituality that we feel even if we cannot understand the lyrics. Similarly, when I was in Tunisia and Syria with the Gryllus brothers, shooting a film of singing psalms, I once stood in the cloister of an early Christian castle while the cameras were rolling. I was singing a Reformed psalm adaptation from 1575 called "Do not let me fall, Majestic God". When I started singing, our Arab hosts and everyone nearby stopped and fell silent, and listened to the song deep in thought. The song was powerful even in that Muslim setting. I believe that the world could be improved, not with wicked speeches but with beautiful songs. This psalm has been my companion since then, I often sing it in churches.
Márta Sebestyén a world famous Hungarian folk singer, composer and actress. She has performed regularly with Muzsikás, a Hungarian folk ensemble and they have released a few recordings. She sings the folk songs of numerous Hungarian regions, but Bulgarian, Croatian, Greek, Japanese, Norwegian and Serbian songs are also included in her repertoire. She is featuring on the Grammy Award winner Boheme album by the french Deep Forest duo. She has received various recognitions for her work, in 2010 she received the UNESCO Artist for Peace title. She has been member of the Hungarian Art Academy since 2013. "For me it's so natural that I'm singing, that all my thoughts and emotions are coming with and through the music. And I just don't understand why the world is full of anger and hatred and battles," she said in a video interview earlier.
I have heard that you have several hymnals, one of which features the psalm you have just mentioned.
I have a lot of special Reformed relics, and not just hymnals. One of my greatest treasures at the moment is a Reformed hymnal from Transcarpathia, which I received from my daughter-in-law. She is from Nagybereg, her family lives 25 km outside the border of Hungary. It was there, three years ago, in a beautiful, Reformed Gothic church, built in 1409, that I walked one of my sons down the aisle. The wedding ceremony was officiated by the bride's godfather. Since then, during the pandemic I have followed online the Nagybereg worship service several times, always using the hymnal from my daughter-in-law. I have a variety of older and newer hymnals, but I also have other treasures. One of them is a certificate that has a special story. I received it four years ago when I gave a concert in the Nagyvárad Reformed community. I recalled seeing family portraits that had a Nagyvárad photographer's seal on the back, showing my handsome, moustachioed great-grandfather, a pastor, and my beautiful great-grandmother, but I knew little about this side of the family. When I gave a performance in the Nagyvárad-Újváros Reformed Church, at the end of the concert the pastor, with a mysterious smile on her face, presented me with a certificate showing that in 1904 my great-grandparents, Rev. Bertalan Szabó and Ilona Homolya, got married in the very same church. The plaque says: "With faith in God and in a happy future". When I realised that I was standing in the same building where my ancestors were wed, it struck me that songs and traditions are woven throughout generations, connecting us to one another. So I have a thousand ties and memories when it comes to Reformed traditions.
So of we have such a nice old song tradition, why is it still a good idea to publish a new and extended collection of hymns?
It appeals to church-going youth if hymnal editors include fresh songs that are closer to them. Although I personally get more out of the old Genevan psalms as they have survived for centuries and have remained in use, I recognise that all ages have added new songs and local varieties to this musical treasure, which should not be ignored. It seems for example, that the over twenty-year-old psalms written by Dániel Gryllus and Zoltán Sumonyi, which we have performed together on several occasions, have become really popular among people. I am frequently asked to perform them at weddings, for example. The fact that some of these have ended up in the new Reformed hymnal shows that once people start singing a song, it becomes their own, and they enjoy singing them in a communal setting as well.
From the new hymnal, which psalms are close to your heart?
I really like Psalms 42 ("As the deer pants for streams of water") and 90 ("Lord, you have been our dwelling place"), which pop into my head several times a week. But the music of Bach, the wonderful chorales are also resounding in my heart. That is why I feel that being cultured in music is important. If someone who has worked with noble music encounters Reformed culture, they will get a familiar feeling, and singing becomes a beautiful experience at once. And this is the key to music teaching: students need musical experiences. If we hit someone with a stick, telling them to sing, and especially to sing psalms, we will never succeed. If, however, singing becomes an experience, we will. This is what the hymnal introducing worship service aimed to do.
If someone was not present at this worship, where can they experience something similar?
Recently I have been lucky enough to give concerts in two beautiful Reformed churches. One of them was on 20 August in the magnificent Árpád-era church of Siter, where everyone was eager to join in the singing. And in early October I visited Bihardiószeg, where the largest Reformed church of the Érmellék region is located. That was some singing that I experienced there! The cantor lady began singing the Hungarian National Anthem, the pastor released his majestic baritone, and our national prayer filled the air. Anyway, I feel that the Reformed atmosphere is human-focused; pastors are not distant but approachable. The pastor is the soul of the village where they serve, just like the teacher used to be. That is why my grandparents were held in such high regard, even after their death. The teacher was a father figure in the village, organizing a book or singing club. My mother comes from the same background, and she represents the same: community is in her blood. She, a former student of Kodály, even at the age of 87 holds choir practice every Friday to her former pupils. And they, some in their sixties and seventies, still show up as they used to when they were schoolchildren. If my mother appears somewhere, everyone is bound to be singing within ten minutes. And what is even more important, she sings in tune! It is important that the experience I have mentioned before is a good one. If we sing out of tune, struggling with each note, how can we expect anyone to have a desire to join in? We must achieve for greatness.
Why did you never become a music teacher?
It took me a long time to understand that learning does not come so easily to everyone, that for some people it is not enough to hear a melody once to memorise it. I grew up in the world of music, I was present in Zoltán Kodály's classes in my mother's womb. Still, even if I do not give classes, I teach in my own way, at least by showing an example. I also speak a lot during my concerts: I tell background stories, so these performances are somewhat like an extraordinary literature, history and music class. If these events become experiences, that is also a kind of teaching and learning.
Originally published in Reformátusok Lapja, the weekly magazine of RCH. Translated by Erszébet Bölcskei.
"The spiritual depth and experience, is not bound to a place" – says Molnár Ferenc Caramel, a celebrated pop performer in an interview which he gave at the occasion of the special worship introducing of the new Himnary of RCH.