The RCH is filled with joy to welcome a group of 10 U.S. teachers to Hungary from the Teach Overseas program. They will spend the summer teaching English at refugee camps in Debrecen, Bicske, Fót and at the Refugee Mission's new community center in Budapest.
The teachers arrived in Budapest on Monday and participated in a short orientation before they head out for their different locations on Wednesday. The team is made up of young and old. In fact, two are veterans of the Teach Overseas program, with both returning after previously serving in Hungary, but all are excited for a memorable, faith-filled experience working with the refugees.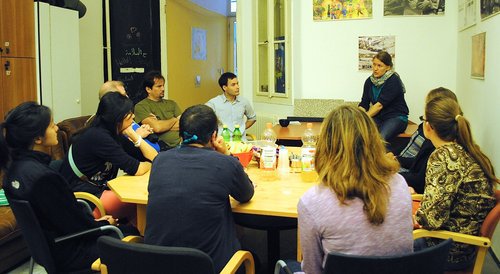 Dóra Kanizsai-Nagy speaks at an orientation in Budapest for the Teach Overseas teachers
Teach Overseas is an interdenominational program that has been in operation since 1981. It provides native-English-speaking individuals from the United States an opportunity to travel different countries and teach conversational English. According to the Teach Overseas website, the program's vision is, "to share Christ's love through teaching." It works with 10 different countries around the world. Interested teachers are able to choose between two different terms of service with the organization – one year, where teachers teach in local high schools, or a six-week summer term. Teachers are chosen and assigned to countries based on their application and a personal questionnaire.
Teach Overseas has been working in Hungary for 20 years. If you are interested in finding out more about the program, you can explore their website here.
Amy Lester