During a video conference on December 22nd, the Debrecen Reformed Theological University (DRHE), the Transtibiscan Diocese and the Both Antal Theological and Cultural Foundation delivered their joint donation to the Protestant theological school in Beirut, which suffered damage in the explosions on August 4th.
On August 4, 2020, an explosion of thousand tonnes of unsafely chemical substance shook the capital of Lebanon and caused devastation. The detonation claimed the lives of 204 people and injured 6500, leaving almost every area of the city damaged or in ruins. This caused a humanitarian crisis in the city, which is already suffering from the pandemic and economic difficulties.
The building of the Near East School of Theology (NEST) was also damaged in the explosion. Established in 1952, the institute trains pastors for Protestant congregations in Lebanon and Syria. One of its sustainer is our partner church, the National Evangelical Synod of Syria and Lebanon (NESSL). Najla Kassab, one of their pastors, is also the president of the World Communion of Reformed Churches (WCRC).
"We've never faced such destruction in the history of NEST as we do now, even in the days of the 15-year Lebanese civil war. But we are not the only ones. The devastation is terrible throughout Beirut," the president of the institute, George Sabra wrote.
In the recent years, RCH has developed a close relationship with Protestant churches in the Middle East. The last time the Hungarian Reformed delegation visited Lebanon and Syria was in 2019. In Beirut, they visited NEST and had a discussion about the opportunities of the partnership. Delegations of Syrian and Lebanese Protestant churches have also visited Hungary several times in the recent years.
The leadership of the Debrecen Reformed Theological University reacted to the recent call, and together with theTranstibiscan Diocese, the Both Antal Theological and Cultural Foundation, and the student union of DRHE delivered a significant financial support to the struggling school.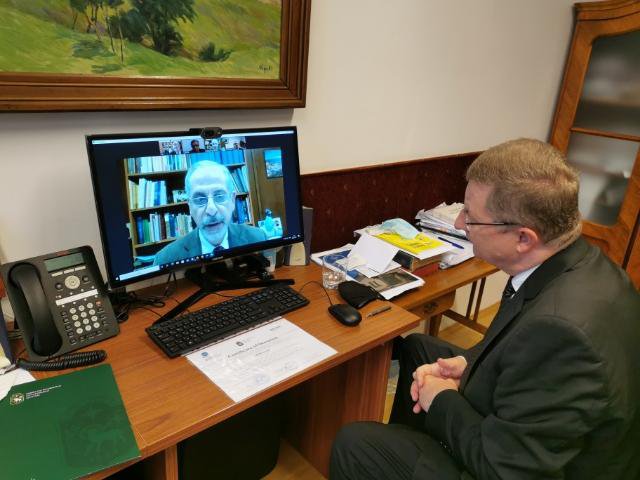 On December 22nd, Bishop Károly Fekete, Rector Béla Levente Baráth, Zoltán Kustár, president of the Both Antal Theological and Cultural Foundation, met with George Sabra, Rector of the school in a video conference. During the meeting, the Rector of DRHE virtually presented the donation letter, which contains the fact of the donation. George Sabra emphasized, that the donation arrived in time, because the aftermath of the explosion, the Coronavirus pandemic and financial crisis impacted the institution at the same time. He expressed gratitude for the donation and his hope is, there will be more opportunities in the future for scientific and educational cooperation between our institutions.
Translated by Csenge Kiss
Proofread by Claire Weihe
The World Communion of Reformed Churches (WCRC) calls on its member churches to pray for all those who have been impacted by the explosion in Beirut's port on 4 August and to provide support as they are able.