God does not have ill and healthy, Turkish, Hungarian and Roma children, merely children. – We spoke with László Katkó the head of the Good Samaritan Reformed Children's Home in Velyka Dobron, Ukraine after being presented the Tamás Dizseri award.
What was the girls' reaction to the award?
They don't know about it yet – I do not brag about such things, but I think they will when they hear about it.
This award belongs to them a little bit as well.
Yes definitely, but more to my colleagues who know that we are not only responsible to dress, feed or educate the girls but also responsible for their talents as well. Four of our children study music at the moment, and they all have the opportunity to take part in different performances like singing, dancing and sports almost every day. They are very skilled: just recently they won a game of American football 6:1 against a team of boys.
One can see that you are really proud of them.
Especially when I recall the circumstances they lived in before they got to us. Many of the girls came from families where they never ever ate meat, or which lived an extremely immoral life. There was a family where all three daughters had to witness their mother with three men at the same time. It took the eldest girl several years to get over this trauma. Today she is married, expecting her second child and lives a wonderful family life – I am the proudest of stories like this.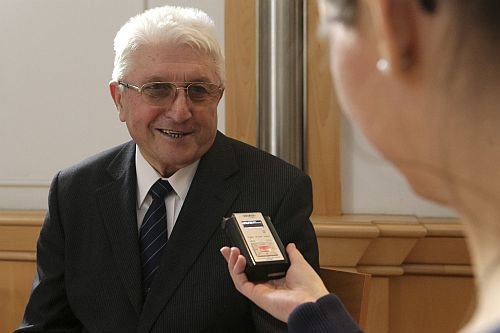 Since January there has been a recommendation that no children under the age of 12 should be taken into children's homes, instead they should be taken in by foster parents.
Child welfare is in transition in Ukraine, adoption has become a current topic – but who would like to adopt an ill, lame, crossed-eyed or seriously disabled child as we do? Another obstacle of adoption is that many of our children have no court verdict deciding whether the parents have lost guardianship or not. I am a Christian man, I do not persecute anyone, moreover if the family's situation has settled, the child may even go back if he or she wants to. Unfortunately, most of the time this is not the case.
At the award ceremony you said we raise our children to become good Hungarian women, even the Roma ones
We don't use the term 'Roma'. God does not have Catholic, reformed, Roma or Russian children. They all belong to him equally. Among the girls living with us, we find Ukrainian, Russian, Belarus, Turkish and Greek – but they all become Hungarian woman, because we teach them to pray in Hungarian. At the same time we consider it really important that they remember where they come from – in case it's possible – and to keep in touch with the parents. We had a case when two little girls arrived to us; the mother was imprisoned, because from her 9-month old twins, she had beaten the little boy to death. The eldest girl was five years old at that time. I was shocked when the pedagogues told me what the children had answered to their mother's letter. They didn't ask about why she killed their brother, but about when her birthday is and what present should they send her. This attitude is the most important we can give to the children living in our home.
László Katkó has been the head of the Good Samaritan Reformed Child's Home since 1995. The home does not receive any support from the Ukrainian state. Among the 70 residents of the self-sufficient institute, there are multi-disabled and psychiatric patients as well. 
Interview by Zsuzsanna Bagdán; translated by Anita Polgári
Photos: Vargosz
Originally published in Reformátusok Lapja 2014/9