"He was tortured due to his faith; her church building of his congregation was demolished" – volunteers, pastors and lay members of the Border Ministry of RCH have been confronted with these kind of personal life stories during their regular visits at Transit Zones in the past years. How does the closure of transit zones affect their work? How would those who became Christians in Hungary be helped to return to their homeland, if necessary? The Reformed Church Weekly of RCH asked these questions in a short interview with Rev. Dr. Ágoston Dobos, local pastor in Békésszentandrás, a city in Southern Hungary, who has been leading and coordinating the team of volunteers visiting the Tranzit Zones, under the umbrella organization of the Reformed Mission Center (RMC), and with the professional and financial support of the Hungarian Reformed Church Aid.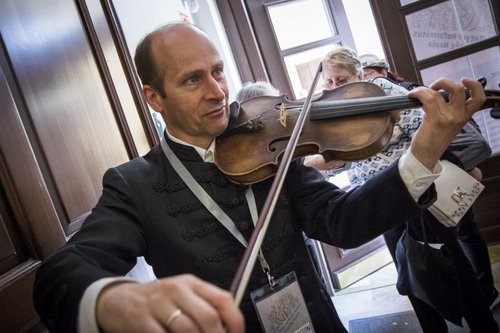 Following the ruling of the European Court of Justice, the government decided to close the transit zones. What do you think about the decision?
I felt the hopeless, long anticipation of those who lived there. Together, I rejoice with the many lovely people I met in the transit zones who attended our Bible classes. They're happy to be able to live in an open reception center, following the ruling. But I can't judge the decision otherwise, from a professional angle. What I can do is continue praying for the decision makers (Tim 2:1).
What was the transit zone like from the inside? Journalists hasn't ever been allowed to enter there.
It is a matter of point of view. For a long time, they were in a stimulus-poor environment, which was spiritually and mentally stressful, but they were provided with regular meals, accommodation and the opportunity to use sanitary facilities. The children received basic primary education. If we look at this from the point of view of our good living conditions, it is very poor, but if we compare it to the crowded refugee camps in other countries, a huge quality surplus.
After the European Court of Justice ruled that keeping asylum seekers in transit zones along Hungary's southern border amounts to detention, and as such is unlawful beyond the first four weeks, the government closed down both camps and moved asylum seekers from there to open reception centres inside the country. Only four people are now still in custody, while the remaining 280 will be able to move freely. The government announced, Hungary will only accept asylum requests through its consulates abroad. (ed.)
The Train the Unknown Trainer (TUT) EU project seeked to strengthen the training and teaching competencies of informal volunteers working with refugees so that they are able to better serve the needs in ways that will stand against all forms of discrimination and racism, prevent and combat intolerance. To introduce the best practices of the RCH, participants of the TUT meeting in Budapest witnessed the work of the HRCA is being done in the Transit Zone in Tompa at the Hungarian-Serbian border.
What opportunities did you have in the Transit Zones as a pastor?
Jesus called us to put our hearts into preaching the gospel to all nations. It was a great opportunity as I didn't have to travel to Afghanistan, for example, it was enough to drive two hours, and yet I could preach the word in an "Afghan village" every week - along the Hungarian border. What I consider as unique in Europe is that we have been able to talk openly, without restrictions or problems, about Jesus, our Savior, and we have been able to couple our witness with acts of love. We regularly brought gifts to the refugees so that they could see, don't only have we nice words, but also kindness and good deeds.
These people are hungry for love and friendship, grateful for our approach, and in their own, simple, but touching way, they returned the kindness. We visited the transit zones with a group of two or four people, at the same time. There were twenty-five volunteers from different denominations during the peak period. We held Bible classes, sang songs together, while I played the violin. Some played football, others played ping-pong with the kids. We also had a volunteer who spoke only the 'international language of love', yet the single fact that she gave a hug to the refugees, was an invaluable gift, as they haven't had the chance to experience being embraced, for years.
Have you met Christian refugees?
There were few, but yes. Some were tortured in their homeland for their faith, and their church was demolished. Others converted to Christianity on their way to Europe, and I saw some people among them who I am sure were not double speaking. Anyone who professes to be a Christian must also undergo an "examination" as part of the asylum procedure. People who converted in Europe are often rejected.
Involvement of local congregations
After the lockdown due to the corona virus epidemic, the pastor can apply again for permission to enter the open camps in Vámosszabadi, Balassagyarmat, and they can organize encounters outside the camp with the refugees. At Pentecost, Rev. Dr. Dobos preached in the Reformed congregation in Balassagyarmat, where the English sermon was translated into Persian and Kurdish for the participants. "We need to work out how to continue the service with the involvement of local Reformed - or other - congregations," he added.
Interview with Márton Juhász, managing director (CEO) of HRCA, about their services for refugees and the humanitarian projects at the former transit zones.
You have a personal dream. Whom would the Onesimus Oasis, a Christian guest house, help?
In refugee camps, you can see posters from an organization that draws attention to helping people who still want to go home for free (IOM). My idea is that if there could be schools, hospitals, nursing homes maintained by the church, we could also have a repatriation service to strengthen those who convert here and direct them to a Christian community at home.
Beyond the mere administration of this process, Onesimus Oasis could also be a Christian guest house where the spiritual support and reinforcement of returnees would take place. I would offer my piece of land and house for this purpose. I am looking for partners and prayer support to organize this.
Translated by András Tóth. Originally published in the Reformed Weekly of RCH.
"At first we worked only with the children," she said." We did music sessions for them, with 25-30 of them in a group. Sometimes I would have two sitting in my lap and one hanging round my neck as we played the synthesiser while my Reformed Church colleague played the violin. We also did handicraft sessions, making necklaces and mandalas and colouring in pictures. The adults liked joining in — they liked colouring in, too. After a while we began to talk: they really needed to share their problems with someone. They needed people to listen to them, to offer them a welcoming, responsive: love." - reported Rev. Irén Honti, Lutheran pastor in Kiskunhalas
Beside HRCA's and RMC's humanitarian and community projects, the main focus of RCH's Refugee Ministry, coordinated by the Diaconal Office and implemented by Kalunba, lies on the holistic and complex support of social inclusion of refugee families, in cooperation with international partners, like the Swich Church Aid (HEKS). Read more about Refugee integration here.